Chili-Lime Pork Tenderloin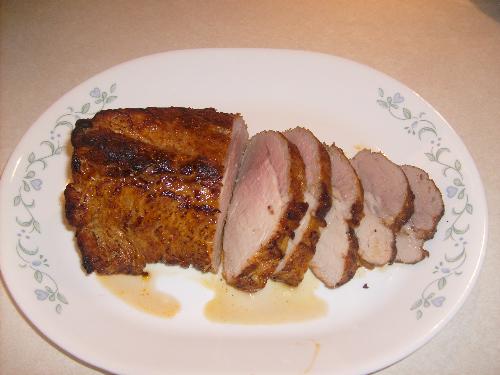 United States
October 21, 2008 3:40pm CST
I got this recipe from All*You, one of my favorite magazines. My whole family absolutely loved this pork tenderloin, even the kids, so I wanted to share it with ya'll. Chili-Lime Pork Tenderloin Prep: 8 min. Cook: 27 min. Serves: 6 Cost per serving: $1.56 * 1 1/2 lb. pork tenderloin * Salt and pepper * 1 tsp. chili powder * 1 Tbsp. fresh lime juice * 1 tsp. soy sauce * 1/2 tsp. sugar * 2 Tbsp. vegetable oil 1. Preheat oven to 400 degrees F. Line a large rimmed baking sheet with foil. Pat pork tenderloin dry and season on all sides with salt and pepper. 2. Blend chili powder with lime juice, soy sauce and sugar in a small bowl. Use your hands to rub mixture thoroughly into tenderloin. Warm a large ovenproof skillet over high heat, then add oil. Add pork and sear on all sides, turning meat with tongs, about 2 minutes total. Place skillet in preheated oven and bake until a thermometer inserted in center of tenderloin reads 145 degrees F, about 20 to 25 minutes, depending on the thickness of tenderloin. Baste with any juices that have accumulated and add 2 Tbsp. water at a time, if necessary, to prevent scorching. 3. Remove tenderloin to a cutting board, cover losely with foil and let sit for 5 minutes. Slice on diagonal into 1/2-inch-thick pieces and serve. PER SERVING: Cal, 9g Fat (2g Sat.), 74mg Chol, 0g Fiber, 24g Pro, 1g Carb, 205mg Sod.
1 response

• United States
21 Oct 08
This is a new one that I havent tried. It sounds really good and I will try it. Appreciate the information and happy My lotting!

• United States
21 Oct 08
I for sure recommend this one. We're having it for dinner again tonight. It turns out so flavorful and juicy. It is just delicious.