Have a great day!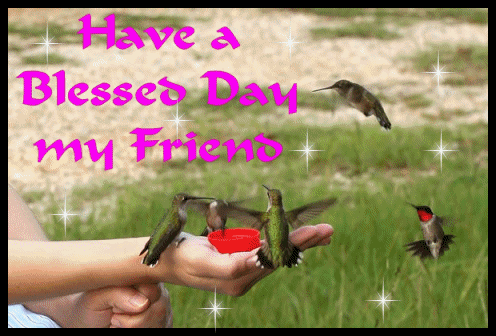 India
October 22, 2008 11:57pm CST
This bright new day is given to me To live each moment with zest To grow and try to be My highest and my best I have the opportunity Once more to right some wrongs To pray for peace, to plant a tree And sing some joyful songs Have a great day And may the rest of the days of 2008 be great too!
9 responses

• Philippines
23 Oct 08
hello mayka :-) thank you for that very special message. It sure brightened up my typical afternoon here at the office while I am answering some mylot discussions. Spreading cheer is really nice. Hope you have a wonderful day too! Take care and God bless.

• Pakistan
23 Oct 08
Hi Mayka what a day

what a enthusiatic start of the day

and what difficults u have used, i have to open dictionary to get the meanings of them In last i would u wish u all the best and hope rest of days of yr 2008 would be as per ur expectation

Take care


• Kenya
23 Oct 08
Wow! what an inspirational discussion? I think I needed this to jumpstart my day. Thanks alot for sharing this. Let me say a prayer before posting this...........a prayer for you and me and the whole of mylot. Have a nice day mayka

• Delhi, India
23 Oct 08
Many thanks for the wonderful message through a very meaningful peom. Positive words always help us think positively and hopefully your meaningful message would have a fruitful effect on all of us.

• Delhi, India
24 Oct 08
Yes, it was a busy day, did not realise, how soon it came to an end.


• United States
23 Oct 08
Thank you mayka, I wish the same for you and everyone else as well.

• India
23 Oct 08
Hi have a great day in my every moment of life.Every moment will become a great day for all of us.Every person should be happy,peaceful and the blissful. Thine eyes stretched beyond the pale light of mortal world, For what vision art thou lost in thought? On what aim art thou fixed? Thy motionless gaze, Thy fervant ecstsy, Thy illumined face, All these unearthly marks And more that my mind is powerless to grasp Have given me sight for seeking the unseen. To become a great day and become as your vision.


• United States
23 Oct 08
same to you dear. i hope we all have good days coming.