A FREE purebred bengal kitten!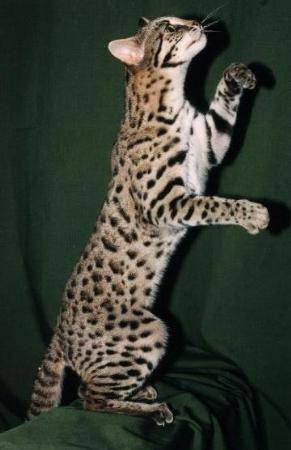 United States
October 23, 2008 12:06pm CST
As some of you may know from reading my posts, I*really* love kitties, and I tend to rescue then, bring them home, fall in love with them, and then have to adopt them out. Well, I recently gave away a beautiful marmalade (even though I*really* wanted to keep him) because we're moving in January, and I didn't want having 2 cats to be an issue with finding a place to live. WELL, my mother-in-law has 2 bengals (which are BEAUTIFUL cats!) and her breeder called her with a proposition. She's going out of the cat breeding industry and needs good homes for most of their bengals. They have 4 4-month-old kittens, 3 teens (about a year old,) and 3 breeding-quality adults that they HAVE to give away. And they're giving them away for FREE! We've always wanted a bengal, but the $700-$3000 kitties haven't quite been in our budget. Soooo, we REEEEAAALLLY want a bengal kitty, but it comes back down to the fact that we're moving in January! I know we'll likely never be able to afford a bengal, and this seems like SUCH a good opportunity, but.... What do you think? Should I (again) do the responsible thing and forego adopting a beautiful kitty? Or should I just deal with an issue IF it comes, and not miss out on this opportunity?
3 responses


• United States
26 Oct 08
Yeah, we've finally decided we're going to get one. I'll go down there with my mother-in-law, and see if I bond with one. If fall for one, I'll surely bring it home for my husband's birthday. It will be perfect timing!

• United States
23 Oct 08
It seems like you could get the woman to come down in price if she needs homes for the cats. Point out to her you love the cats and could give it the best home ever. I think giving her a nice sales pitch should help you to ensure you will get to keep the cat at a reduced price. Good Luck!

• United States
24 Oct 08
No, no, no - the cats are FREE! There is no price - all we have to do is get them stayed and neutered and finish their vaccination series. That's it! The issue isn't price, it's that we're moving and where we're living is up in the air.

• United States
23 Oct 08
The first thing you should do is ask if they can hold onto one of the kittens for you for a few so you can find out if animals are allowed where ever you are moving to. Once you know IF animals are allowed then you can go ahead and take in this cat. I know from first hand that those cats are very beautifull and wonderfull breed of cat and anyone would be stupid NOT to take up an opportunity like that.(no offence)

• United States
23 Oct 08
No offense taken. I'm kind of feeling the same way. We already have one cat, so wherever we go will have to take cats. The questions is whether a place would take 2 cats - sometimes there are limitations. Something else we've been batting around is living with relatives for 6 months, and if that's the case, having two indoor cats would be a little too much to ask maybe.