Haircuts! What do you go for? As you can see, I prefer the bald look!

United Kingdom
October 25, 2008 2:53am CST
I guess that time always comes around when your hair just keeps on growing and so, you have to go for a trim! As you can see from my photo I have the skin head look and I love this style so much. If you didn't notice my photo before this, my hair was a bit longer! I liked the idea of sticking some of that grease on my head and trying to get my hair into some kind of order! We're in the credit crunch now though and I can sure live without that grease! You wake up in the morning and there's no more worrying about what your hair looks like. I'm going to keep the skin head look I think. It means that I may have to head out to the barbers a lot more frequently. After a shower you hair drys far more quickly! After I got rid of my long hair, my neighbour said "Oh! Andrew, where's your hair gone? Can I have a feel?" She mentioned something along the lines of a skin head style being so cute, it felt like a hedge hog! A bit wacky I know but all the same. So, there you go! What's your type of haircut? Andrew
5 responses

• United States
26 Oct 08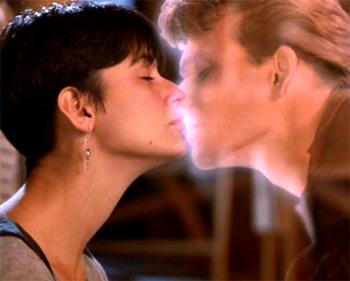 My Hubby likes my hair long and I like it short so we compromise...in the winter I let it grow out and in the summer I get it cut short. The long look is just that, long...there's no real style to it, it's naturally curly as it grows so it just does it's own thing. As for a short style, I like the style of cut that Demi Moore had in Ghost. [b]~~IN SEARCH OF PEACE WITHIN~~ **AGAINST THE STORMS, I WILL STAND STRONG** [/b]

• United Kingdom
27 Oct 08
It sounds like you have a real plan there! I used to have curly hair as a baby and the mothers would crowd around me and say how cute I was, at least that's what my mother told me! Anyway, I think I will remain with the short hair look, it's so convenient. Andrew

• United States
27 Oct 08
When I was little I had corkscrew curls all through my hair...naturally. Personally, I'd keep my hair short all the time if Hubby didn't love long hair so much. I love it short...so easy and quick to care for. [b]~~IN SEARCH OF PEACE WITHIN~~ **AGAINST THE STORMS, I WILL STAND STRONG** [/b]

• Germany
28 Oct 08
in my case i love guys also bald.its clean and looking younger.

• United Kingdom
28 Oct 08
Yes, having a bald head is definitely neat and tidy as well as clean! I don't think I will change my style now. Having this type of haircut is so easy to manage. There's no more using brushes an combs and things! I can stop spending out on that hair grease too! Andrew

• India
27 Oct 08
hI aNDREW tHAT'S COOL HAIR CUT! You look good in this. The previous one was not bad either. But I guess, you are having a much lighter feel having it grazed. Recently, I have had a cut as well. I chopped it myself. I was upset and did the blunder.


• United Kingdom
27 Oct 08
Hi, I'm glad that you like my cut. I think it's nice to go for a change from time to time. The thing about this very short haircut is, I could even do it myself, there's no styling involved. I don't think I will bother though as I like the barber I have at the present time. My head definitely feels a whole lot lighter for having this haircut. How is your hair now though? Andrew

• Australia
27 Oct 08
I prefer long hair on men and women. I cut my hair short two years ago and I hated it.:( At the moments I have dreadlocks. They were a pain in the *ss for the first couple of weeks, but they're starting to look real good now.

• Australia
27 Oct 08
How annoying that you can't edit your posts. It should be *moment. I didn't notice that in the preview :(

• United Kingdom
27 Oct 08
Long hair is fine I guess if you don't mind doing the things that go along with that, styling, gels and the like! Still, I think I have finally found my niche as regards hairstyles! I'm happy with things at the moment but who knows whether I will change once again in the near future! Thanks. Andrew

• Australia
1 Nov 08
Well, having dreads I don't have to do anything but wash 'em once a week. :D Oh, and maybe wax 'em once every couple of weeks.

• Australia
1 Nov 08
I have gone through many different hair style phases throughout my life. In High School it was very long and tied back in a ponytail; I wnet through a phase soon after where I shaved my head completely bald for a while; (I loved this too actually) and at this moment in time I am letting my hair grow longer again. I find it really difficult to find somewhere to get a decent haircut these days so thought what the heck, I may as well just not worry about cutting it for a while! I just hope I can put up with the middle stages between short and long because this can get frustrating trying to keep things neat. I am a "suit" so it is important that I look respectable.

• United Kingdom
1 Nov 08
That pony tail is quite funny on people! When you look at the back of their heads it's like you're looking at the back of a donkey's bottom with it's tail

. Well, I've never had that anyhow. I love short hair and I will I will stick with having a bald head! Andrew