The New Supersonic Concorde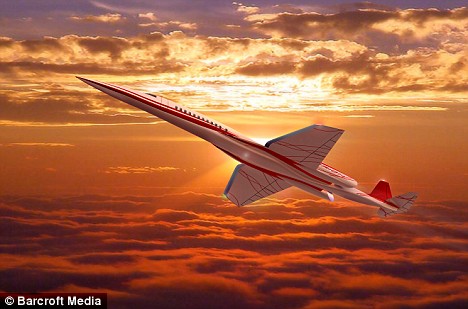 Singapore
October 25, 2008 8:28am CST
Yes, as according to the title. It has been more than 5 years since the retirement of the Concorde jet which had been plying the trans Atlantic routes of world aviation. Not much had been thought of it since, however, an American firm is on the cusp of re-imagining the supersonic dream and confidently plans to have supersonic commercial aircraft back in the skies as a reality by 2015. The Aerion Supersonic Jet may not have the same grace and style and the size of the great Concorde, but the Aerion group are so sure that the plane will fly that they have pencilled in test flights for 2012, with transatlantic testing to follow soon after. Reaching a top speed of mach 1.6 the jet will once again put New York within three hours flight time of London. The Aerion aircraft can successfully fly at nearly the speed of sound without any significant noise impact and more amazingly has the ability to fly at mach 1.15 without emanating a sonic boom. 'This is due to the patented supersonic natural laminar flow (SNLF) technology that substantially reduces drag at supersonic as well as high-subsonic cruise speeds,' says Jeff Miller, chief spokesperson for Aerion. However, the one fact will remain and that will be such travel will only be available to those who can afford to pay. Given the steep price, it will definitely not be of concern to those quarters that enjoys supersonic travels. Ref: http://www.dailymail.co.uk/sciencetech/article-1079963/The-new-Concorde-Supersonic-jet-London-New-York-just-hours.html
1 response

•
14 Nov 08
Only for the super rich again. what we need is a better way of transporting people at sub-sonic speeds than the cattle trucks known as 747s. We needed to be given more space and the ability for the seats to fold flat so you can sleep properly on them. The current system for long distance travel would be objected to by animal rights activists for animals so why do humans put up with it?

• Singapore
14 Nov 08
I suppose the current answer to that 747 cattle truck is the recent hyped Airbus A380.

Quite impressive with some of the layouts adopted by various reputable airlines like Emirates, SIA and etc.

•
14 Nov 08
Flying coffins! Not enough exits, not enough space between aisles - maximise qunatity and profit over comfort. Yes, some airlines provide an extra couple of inches of leg room and that can make all the difference. Still major problems of people handling to overcome before it actually becomes 'fun' to travel for 12 hours in a cattle truck!