SS Tigers Eye Ring, With Bella Luce CZ's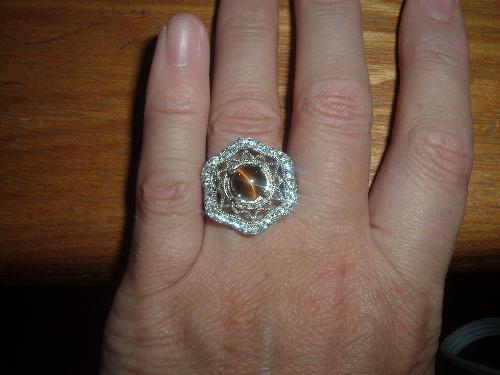 United States
October 26, 2008 5:46pm CST
This lovely ring, was made by me, and I am very pleased with the results. As you can see from the picture the Tigers Eye gemstone, also has the cats eye phenomenon, and it is strong and lovely. I bought the semi mount from JTV, they have been selling a couple of new semi mounts set with bella luce cz,s to help keep costs down. I was very happy with it, and it is rhodium plated too, making the silver untarnishable. This is one of my newest pieces, and will be available for sale in my Etsy store.
2 responses

• United States
16 Nov 08
That is one beautiful ring! I love the gemstone you selected for the ring...it is very lovely! I can see this ring selling quickly on Etsy, it'll make a beautiful present for someone and actually, I would love to pull this pretty creation out of my stocking on Christmas Day (hint, hint, honey!

)

• United States
17 Nov 08
LOL I hope he knows the address to my store.

• United States
18 Nov 08
Of course he does. I hearted you as one of my favorites on Etsy and I'm going on the site after lunch to start making my wish list. He'll get the emails of my favorite Etsy items tonight when we get home.



•
16 Feb 09
That is a beautiful ring. I am new to making jewellery, I go to an evening class once a week. I hope to make such lovely pieces like you:)

• United States
16 Feb 09
Thank you, this one sold pretty quickly. Good luck with your adventure. Are you learning wire wrapping, or setting standard stones?

•
16 Feb 09
Hi, the evening class I go to is mainly working with silver. We are learning the basics with soldering, cutting etc. I have made a bangle and a necklace so far. I am looking into different classes with bead work and setting stones:)