Scrapbook Weekend Retreat, lots of caffeine, scrappin, and fun.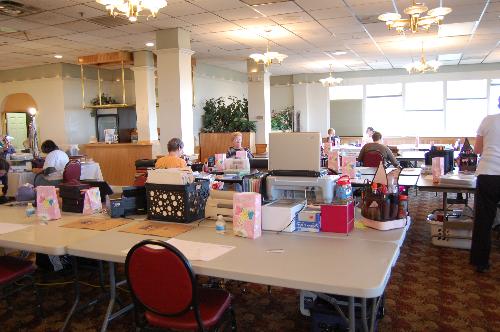 United States
October 27, 2008 9:03am CST
Just got back to my daughter's from a fun scrapbook retreat weekend. Learned some new techniques, scrapbooked for hours and hours, haha, and got about 4 hours sleep over the entire weekend. It was a lot of fun, a view of the beach/ocean, too much food, and probably a little too much coffee lol. Has anyone else attended a scrapbook retreat? If you are interested, there will be another one coming up at the end of Feb. in Virginia Beach, the price includes hotel room, continental breakfast Sat and Sun., dinner on Friday, lunch Sat. and Sun., Saturday everyone goes out for dinner, not as a whole group,lol. They wouldn't allow all of us in one resturant lol. You have a 6' work table per person, door prizes throughout the weekend, 3 out of 4 of my group won a prize. And at the end of the weekend they have a drawing for $100 off a future retreat! I didn't win that lol. They leave the crop room open til the last cropper stumbles off to bed, and then it's locked up tight til the next morning, so you don't have to pack up all your stuff each night. If interested let me know.
5 responses

• United States
27 Oct 08
That sounds like a great get away. I wish I lived a little bit closer though. I don't think I could make it over there in Feb. Plus it sounds COLD, of course, that's only because I live in Phoenix where it's ridiciously hot all summer long.

It's suppose to be 95 today. I like the photo you posted. The crop room looks great! I love all the light in there too. I hope you are catching up on your sleep!

• United States
27 Oct 08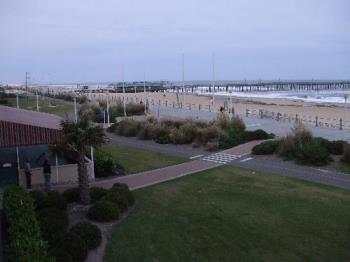 There was actually one woman that flew in from Florida! It was a great weekend, but I was asleep by 9pm last night lol. Just chillin today, and my daughter and I are headed out to Micael's this evening.....can't believe we are even thinking of scrapbooking lol, but that's just what we'll be spending the day doing tomorrow, since I postponed my drive home until Wednesday. Supposed to be raining and snow showers at home (PA.) tomorrow, better travel day on Wednesday. We went this past Feb. and the weather was really nice, not too cold.

• United Kingdom
27 Oct 08
I have heard that scrap booking is a popular activity in the USA but I don't think it is known about in the UK. I am keen on clutter clearing and think it must be lovely to make a scrap book with lots lovely keep sakes inside it. If I had a scrap book I would use colorful card and ribbon. I think that going on a scrap book weekend retreat sounds really enjoyable.

• Canada
27 Oct 08
hey that sounds like heaven! i would love to go to one like that but have no money! i know some friends have gone to one similar here in canada but oh well, maybe later. i like to make my own cards but am not into scrapbooking all that much.

• United States
27 Oct 08
There were ladies working on cards, and other small paper projects this weekend. I know how that goes, I'm already saving for Feb! lol

• United States
27 Oct 08
I am so glad to hear you had a good time!!! Feb would be so nice to go to Virginia its so cold here that time of year - Well you know that! And to go and do something I love like scrap booking!! Wow I'll have to think about it! With every thing I have going on I don't know how I would pull it off BUT it might be just what I need by then!! If you don't mind I'd like to know about how much is it. PM me if you don't want to put it here! Thank you !!!!!

• United States
27 Oct 08
The cost for one person is $200 for the whole weekend. Not a bad price for all that is included. I'll be sure and post the information with dates, etc. when it comes out.


• United States
28 Oct 08
I did get some of my scrapbooking caught up, but I still have Memorial Day camping trip, and some other summer events to scrap. I'll probably get some of those done today, since me and my daughter are gonna spend the day scrapbooking. At the moment, I'm watching weather and seeing when I'll get to drive back home! lol It is a lot of fun, you might check your area, they are starting to have the retreats everywhere.

• United States
28 Oct 08
Step away from the computer! LOL