Red (just a simple poem)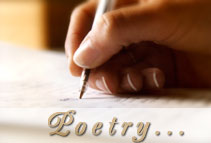 Philippines
October 28, 2008 10:31am CST
Just wanted to share my recent poem.... A bit depressed looking back on someone from the past whom I surprisingly dreamt of a few days ago... This is the first poem I've shared here on mylot.
RED
By Gedrick/Selece
I loathe you for the way you have haunted me You look at me with your perfect eyes and I see A glimpse of a love once scarlet and true But then again, what was I left to do? You hold my hand and you walk away You touch my face and you fade away Now you are nothing but a ghost so dear Please let me be at peace and disappear I shut my eyes but still see you near Your cold whisper is all I could hear You're just another deceiving illusion A senseless product of cruel delusion I can't take my restless mind away from you Still trapped in crimson spells that I can't undo I need to cast away your lovely image For it pulls me into this endless carnage Running in circles for a flame once red How many useless tears must these eyes shed? You choose to lock me up in oblivion While I'm left here daunted with confusion Yet I once saw you as my precious ruby And now your glimmer still won't let me be Did I ever really mean this much to you? Now you act as if I was nothing to you When I close my eyes you hold me tight It seemed so real that it felt so right Blood-stained and guilty that I never want to wake For I can't bear the truth that I still dream of you... *ahh yes, bitterness indeed. Hehe. Hope you guys can relate.

7 responses

• United States
29 Oct 08
Wow selece! That is no simple poem! I have written many poems and this one is definitely not simple! It is really quite good! It is filled with raw emotion! Quite touching, bitter~yes, but full of pain as so many poems are! I really liked it! I think you did a really fine job and I think that you should possibly if you have not already use this for your school work. I hope that you might have already because I think that you have some talent here. I wrote my best poems when I was hurt and in pain and I also was in college at the time. My English Professor told me that I should have them published and I should become a writer. That's funny because now I can't seem to write a simple discussion on mylot!

• Philippines
29 Oct 08
Hello my dear fried! Umm, I'll have it published for our upcoming literary folio, along with two other poems. Thank you so much for taking time to read it and for appreciating it. I too write better when I am in pain. I wonder why it is so hard to write when I'm happy. Haha. That's okay, eventually you'll be able to write a lot of myLot discussions again! Hehe. Thanks a lot! Glad you guys appreciate what I've shared.


• United States
28 Oct 08
that was very pretty. i can relate. sorry for your heartache. it will get better.

• United States
28 Oct 08
I, myself, like your poem. I think many of us have gone through something like this and can relate a bit. Depressing, no I don't think so, revealing, yes, it reveals a bit about your inner self and how deeply you can care for someone else. Like it, yes I did.

• Philippines
2 Nov 08
amazing poem. I like it. behind this username worldbestwriter was also a writer i'm referring myself..You know selece, i also love poem and even create poems and i share it online, in our school paper. And i'm very proud of my write-ups. I'm happy that you also love poems means to say we have both in common. I'm looking forward if you can create another poem.

• United States
31 Oct 08
I don't much like rhyming poetry. This poem has too many cliches for me. I think you have good "poetic voice" however and encourage you to try rewriting the poem without relying on these overused literary devices

• United States
29 Oct 08
I think many people can relate to your poem and the feelings you have. I do believe that many of us have had the same thing happen to then. This is a very sad and emotional poem. It's sad that you are going through this my friend and I hope you find some symbalence of happiness.