Claire's, a girls best friend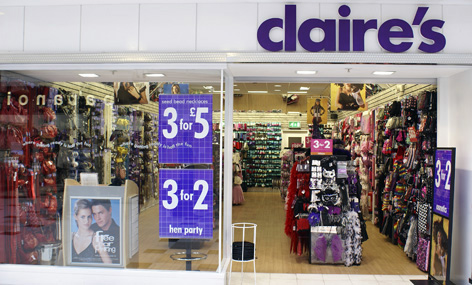 United States
October 28, 2008 1:36pm CST
My daughter just had a birthday a couple weeks ago. She turned 9. She received about $25.oo for her birthday. She wanted to go to Claire's. Well I finally took her there a few days ago. She could live in that store. She got some chop sticks for her hair, four sets of earrings, nail polish, and some nails for Halloween. She got a lot for her money, but she could have spent so much more. Of course I had to get some stuff too, hehe. When was the last time you went to Claire's or took your daughter there?
6 responses

• Canada
29 Oct 08
I think we were there about 2 weeks ago. My daughter is 14 and loves all the nifty stuff in Claire's. We also have a store called Ardene's, which is alot like Claire's and another huge attraction to the girls who live in our area. The prices are reasonable as well. Sometimes I prefer the gift certificate option and just go shopping with her as then I can see her preferences for myself and really know what her likes are at this point in her life. It helps alot for when Christmas time comes and shopping is a big thing. I prefer to give gifts at Christmas as opposed to gift cards, especially with kids. They find more enjoyment out of the opening of the gifts, rather than having to wait until You are available to take them into the store and spend the gift cards.

• Canada
28 Oct 08
yes, my daughters and i go to claires quite often (we do have them in canada) and at a couple of outlet malls around here, they always have 10 for $10 which is the only time we buy stuff at claires. this is a great way to buy a bunch of presents for their friends for whatever reason and it doesnt cost that much money.


• United States
29 Oct 08
my daughter isn't quite old enough for claire's but I always go there for accessories for an outfit or something. I love that store! I've been shopping there for 15 years and counting lol.

• Defiance, Ohio
28 Oct 08
I love shopping at Claire's. So does my daughter. Her eye sgo in awe everything she sees everything they have. Last time I went to Claires was last summer when I took my teen to get his ears pierced. Everything has been crazy that I haven't had a chance to get to the mall. Now we moved and the mall is an hour away. So, I don't see us going any time soon.

• United States
28 Oct 08
I haven't been there in years! I use to love going there. I think I would drive my mom nuts. LOL I don't think there is one nearby to where I live now.