What is INFINITY?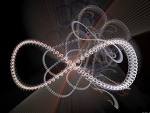 India
October 28, 2008 2:24pm CST
We use this word quite a few times in our life but how do we define it?
3 responses

• Philippines
28 Oct 08
Infinity means forever..everlasting...never ending..no end and no beginning. That's how i see it.

• Jamaica
28 Oct 08
I don't think that there is a scientific answer to something that had no beginning and has no ending. Do you?

• India
29 Oct 08
Infinity (symbolically represented with 8) comes from the Latin infinitas or "unboundedness." It refers to several distinct concepts (usually linked to the idea of "without end") which arise in philosophy, mathematics, and theology. In mathematics, "infinity" is often used in contexts where it is treated as if it were a number (i.e., it counts or measures things: "an infinite number of terms") but it is a different type of "number" from the real numbers. Infinity is related to limits, aleph numbers, classes in set theory, Dedekind-infinite sets, large cardinals,[1] Russell's paradox, non-standard arithmetic, hyperreal numbers, projective geometry, extended real numbers and the absolute Infinite. Happy myLotting.