Computer Care!

India
5 responses

• India
29 Oct 08
There is no need to do them all regularly. If you are using hard disk heavily for files storage, then go for defragmentation. Windows will automatically checks the disk for errors when you started your computer. When it comes to malware and spyware, Run the antivirus at once and keep it alive at any time. You need to enable realtime file protection in that antivirus software. We have to clean the computer parts once for atleast three months, which will boost your CPU performance. You have to take more and more precautions before cleaning.
Your PC could be a cash machine.
Look at my profile to know how.




• Philippines
28 Oct 08
i have set my anti virus to scan on a daily manner which is every 10AM. in this way i my AV could get new updates & scan my computer everyday since it's always on on the internet. as we all know we get all the kinds of computer threats (virus, malwares, worms, etc..) from the internet. defragmenting on the other hand is on a weekly basis which i have set as well every 10AM every saturday.

• Ahmedabad, India
16 Dec 15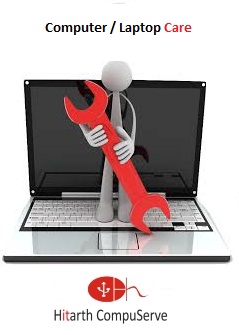 Some Basic Points for your Desktop/Laptop::: 1. You should keep only require software on system. 2. Keep all Data like Files, Folders, Songs, Movies, etc on Other Drives not in C Drive. 3. Keep only necessary shortcuts on desktop too. 4. Antivirus is most important in system now a days, because it'll not only protect from viruses like Trojans, but also keep your pc fast using system tuner tools, which almost available on major antivirus software. 5. Do not switch off power off directly from power, use shut down process, and wait for the shutting down process. after that you may switch off from power. Its safe. 6. Check up your system every 6 months / 1 year from Computer Service Center if possible. 7. Always use genuine Licence Software including Antivirus Software to get regular update from them. ---- www.hitarthit.com -----

• United States
28 Oct 08
I have a tenancy to run my antivirus spyware program about once a month. That is unless it pops up with a virus alert or some kind of warning about the same time that I am logging off of the computer. Then I will go ahead and run it, since I am not going to be online anyway. As far as cleaning out my cache, I usually do that more frequently. The main reason is because I visit so many web sites in a given day. It seems like if I clean out the cache every couple days or so, that it makes my computer run a little faster. Which is what we all want, I computers to run at their maximum speed, right. Such pressure we put on these little machines. LOL What about you? What kind of maintenance programs do you run on your computer? And how frequently do you run them? Hope you have a great day!