Do you enjoy fireworks?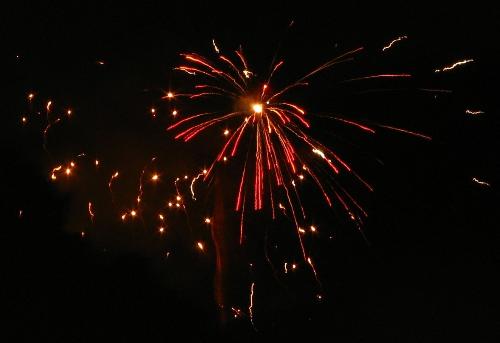 India
October 29, 2008 4:11am CST
Yesterday was Diwali and I got to light several fireworks and celebrate with my near and dear ones. while I enjoyed the noisy ones they like the "light" ones, none the less it was good to share the event with them. How did you celebrate your diwali? do you enjoy the fireworks? do you buy your own fireworks or enjoy watching others light theirs or do you just stay indoors and watch television? HAPPY DIWALI
4 responses

• Philippines
29 Oct 08
Fireworks are really fun and amazing to look at, only afar, but it's not good if you are near it cause it's really dangerous. The fireworks I really admired and enjoy the most were in JAPAN for their HANABI Festival where you will visit a lot of places where the fireworks will be displayed, it's almost a month long celebration where sponsors or center places will be holding the fireworks display. Giant and beautiful!

• Philippines
29 Oct 08
corrections: hana-bi festival gigantic and beautiful!

• Philippines
30 Oct 08
yes, i do enjoy fireworks! i often see fireworks while I'm at home because there is a party house near us which soul often light fireworks whenever there is a celebration. i just love watching those! they're so colorful.

• United States
30 Oct 08
I am not familiar with Diwali. Would love to learn about what it is though. In American we shoot off fireworks on July 4th which is our independence day. Fireworks are always amazing and fascinating to watch, they are so beautiful and colorful. I really enjoy watching them, they never cease to amaze me.

• Philippines
29 Oct 08
Hi there, i definitely enjoy fireworks during opening and closing ceremonies of big and small events whether festivals or fiestas or n during the new year and even after wedding ceremonies. I also watch the fireworks on TV during the olympic games LOL. Last week, there was fireworks competition in my province. For two nights different contingents from different cities came to show off their fireworks. And there ws also an exhibition from Chinese Fireworks. Plenty of people gathered and were amazed by the colorful and spectacular display of lights and blasts.