gambhir going big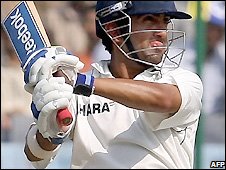 India
November 1, 2008 7:17am CST
Off late I have been talking about Gambhir's form. I have started quite a few discussions since the past 1 month. As I was confident about his form. And he didn't let me down. The other day - just 2 days before he slammed a career best double century (206). And that too against the Aussies. What do you say about his form and future keeping in mind the 1 Test ban handed to him.
3 responses

• India
1 Nov 08
Hello mylottians thank you for posting your comments. yes ofcos Ghambir is in good form for a past 3-5 matches.His double century against Aussis is so good.And see he got a ban, what for that. even watson behaviour is that bad almost all ODI batsman will get irritated by the reaction of aussis. I dont feel fair about the ban. This kotla match will get in to draw it seems. This same place kumble got 10 wickets. Lets see hope for the best. Thank you have a nice time keep mylotting

• New Zealand
10 Dec 08
I think Gambhir has shown a better performance throughout this year. He has been very effective for the past couple of seasons and he seems to be a tough batsman for the opposition side. What I like most about Gautham Gambhir is, he is learning in each and every match. He is adopting to the game very well and tries to learn something out of each match. I think if he goes on with the current form, his future will be bright and be recognized as one of he great opener.

• India
1 Nov 08
according to me he is the future of the indian team he would be the best opener after sachin,sourabh,sehwag and when it comes to banning him for the 4 th test i think the ban will be lifted as he has claimed