which is your favourate fruit ?!!!

India
November 5, 2008 7:40pm CST
Fruits are the one of the best ingradent for a healthy body.When you start thinking about a good fruit to eat, there are many choices most of them are better than other in someways.But everyone will have thier own best choice. i like to it banana. i find it very tasty. Also it is a fruit that i can get the most and most affordable.
7 responses

• United States
6 Nov 08
My favorite is nectarines but unfortunately they are very seasonal and usueally are expensive. What I eat most often is bananas because they are cheaper and available just about year round. Next would be apples which are not cheap most of the year but at least they are available and work well when cut in half to eat one half and save the other for the next day.

• Indonesia
6 Nov 08
banana of course. i eat it almost everyday cause my mom usually only buy this one. : D

• Indonesia
6 Nov 08
yes, she know that, but actually usually eat bananas make me bored. :X

• United States
6 Nov 08
It's a tie between apples and bananas. I used to only enjoy a banana with my cereal in the morning, but since I began eating organic fruit, I am enjoying apples again. I never cared much for apples because for the last, I don't know 7-10+ years, apples had very little flavor. They looked very appealing...big, shiny and bright red. They were juicy, but had very little flavor. Of course now that I've done much research into organic fruit, I realize that regular apples are being grown to only look good. Apples aren't supposed to grow much bigger than a baseball. They aren't supposed to have a shiny red skin and they are supposed to have a great flavor. Regular apples don't and I don't think I had one for at least 5 years. But then I ate an organic apple and WOW, the flavor was just incredible! It tasted like apples did when I was a child... when they didn't load the soils with tons of chemicals andwhen they didn't spray tons of chemicals on the plants and fruit to keep bugs away. I'm now enjoying eating fruits again because the fruit I eat is grown naturally, the way fruit is supposed to be grown...without the man-made chemicals to make them grow bigger in a quicker amount of time. And I think I'm healthier and my family is healthier because we are getting all the nutrients that comes from naturally grown fruit.

• India
6 Nov 08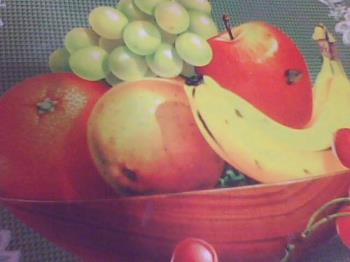 I am from India, I love the fruit which is normally known as the King of the fruits in our Country - The Mango! mango is a fruit which comesin various shapes, sizes, colours and tastes depending upon the variety. We have more than 100 varieties of this fruit in India and there are special events like Mango Exhibihition or Mango Festival,where common people get opportunity to see and taste various mangos at one place. mang is a oval to round shaped fruit with a central tough seed which is covered by thick fleshy pulp. Initially all the Mangoes are green in colour when on tree and depending upon the varietird they take various colours from light yeloow, to Oragngish yellow to redish yellow. They are very aromatic and are very sweet and tasty. Taste, aroma/flavour, sweetness is typical to the variety,The most common variety is Sapheda which is commonly eaten by one and all is basically grown in southern part of India, bt noew a days it is grown evry where, It is sweet and bit sour with a typical flavour/aroma. This is grown in abundance thats why this variety is cheaper and they atr accessible to every one!Regarding the nutitive value of this fruit, it is rich in Proteins, carbohydrates in the form of gars,Fiber, Vitamin A, Vitamin C eyc. The common varieties of this fruit are Totapalli, Bangina palli, Neelam, Langda, Alphanso, Dasera, Chausa etc, There is a special variety of mango which is about the size of a foot ball and it is having the hard textured pulp resembling inner part of coconut and is vey sweet. This Mango is waten when it is green only and when the flesh is tough as it gives a tasty textured material to eat. These are normally seen growing in Southern parts of India and in some parts of Eastern India too! In south they are known as 'Munta Maamidi Kaaya' There are other varieties which have pulp inthe form of Juice and these are rather sucked to have the juice instaed of eating them. They are real fun to enjoy this type of Mangoes. We call them as Rasila!For the information to you and to our members, there is a person in Lucknow who has managed to graft more than 100 varieties of Mangoes on a single tree!! And every year he harvests all the varieties! This is really aworth appreciating thing as he must have taken lots of pains and effortstoaccomplish this job!Mangoes when they are yet to ripe are used in salads and used in making pickles!Thanks friend it was a nice topic of discusision and I enjoyed participating in it!

• Canada
6 Nov 08
Apple is my favorite fruit. It is certainly good for health. "An apple a day keeps the doctor away" , as the saying goes. I believe in that saying. I like the taste of apple and also value for good health.


• Canada
6 Nov 08
hmm my favourite fruits are grapes and cherries. When it's summer, I could eat those like it's a buffet. haha If those aren't available during winters, I woudl go for oranges.