Omg the Media and People make me crazy when they say this!

United States
November 6, 2008 11:06am CST
THE FIRST BLACK AFRICAN PRESIDENT! I am going to say something that many will take the wrong way I am so sure of. I am a huge advocate of Obama please do not get me wrong and I voted for him. There is something that is bothering the hell out of me. He is not the first African American president. He is the first "black american" president. In order to be the first Black African American president both of his parent would have to be Black African Americans. If my father was black and my mother was white and I came out with white skin can I call myself Black African American? What runs through our veins is what matters not the color of his skin. My grandson is biracial and we all love him to pieces his "white" blood and his "black" blood. As the grandmother of my beautiful grandson I refuse to let people take the pride he has in either of his ethinic background and he will grow up to tell you I am not black I am not white I am malado. Which says he is black/white. I dare you to go out into your community and ask anyone if one is biracial are they white? are they black? tell me what is gotten for an answer? The answer is my friend is he is Malado. definition is one parent is black and one is white. yes his skin tone is black therefore he is the first "black" american president but technically it should read he is the first "malado" president. As an Irish American even if Obama was a Black African I would have voted for him.
4 responses

• United States
6 Nov 08
I see and agree with what you are saying. Actually, I have a problem with the media and other people using an adjective before President. Why can't he be President elect Obama, why should the race issue, be it black, white, biracial, African american, malado or whatever be placed before president. The media stirs up so much conflicts. Everyone looking at him sees what he looks like, so the title before President in my opinion should be dropped.

• United States
6 Nov 08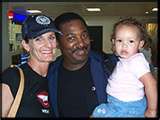 You know what irratates me? The word race. What I mean is, what difference does it make what race a person is?! Regardless of what a person's race is, they're still HUMAN and that's all that should matter. Very few of us are of any one race these days, hell! I'm a heinz 57, does that make me a certain race? I don't think so but if I were to fill out an application, I'd have to mark the caucasion box but it makes me think "What difference does my race make when it comes to doing the job?" And an american is just that, an american regardless of race. I'm so sick and tired of hearing the first black man did this and the first black woman did that. Whoopie dooo! Good for the PERSON not the race!! If we can get others to look past the color of our skins, maybe we can find more harmony in our world!!


• United States
6 Nov 08
I completely understand what you mean hon but my point is, why does race have to be a thought? Not alone pointed out? All of us are human beings and should be treated with respect. I know that it's not going to happen in my life time which makes me sad but I wish it would but in time and with all of us sticking together to fight this race issue, it has to be buried some time or another or do we just keep on fighting? Now I'd feel the same way if it were reversed in the white house because again, Why does race matter? As long as the human being can do the job then that's all that should matter. As for affirmative action, I totally disagree with because it's reverse discrimination. Now if I were to hire someone to do something for me, I'm sooo NOT going to have the government tell me who I can and cannot hire! I will hire who I think is best for the job, not because the government told me to, be it black, white, chinese, koren, spanish or what ever, as long as the person can do the job is all that matters to me. What I guess I'm trying to say is, I'd much rather be hired for a job because the boss liked me and my work, not because of the color of my skin. Now a victum of assault, that's different and I'm on board with you there all the way. These are the types of people that need to change their way of thinking and yes it is a case of racial offense and it's not right nor will it ever be and the idiots should be punished accordingly. My brother has two step sons that have a white mother and a black father. None of us treat them any differently than we do the rest of the family. In fact, since they live near us, I've invited one of the boys and his wife for Thanksgiving dinner at my house along with my parents, hubby and I. They've invited us for a after Thanksgiving dinner the Saturday after. If they didn't like the way we treated them then he wouldn't want us around.

• United States
7 Nov 08
Back before we were such an enlighten country, I do believe that you were defined as being black if even 1/32 of your blood was "black". By your definition most African-Americans are not black as many of their ancestors have a white slave owner as a grandparent or a great grand parent somewhere. I don't really think you want to have this discussion with Mr. Obama or anyone else who is biracial. Any biracial person who looks like Mr. Obama who tries to hail a cab in metropolitan area in this country has the same response as any person whose parents are both "black". If the Media and the rest of the world want to consider Senator Obama the first African American president, far be it from me a lily-with English/German-American to object to it. I am just really proud that enough people who look like you and I are able to see to the measure of the man and not the color of the skin. Whether Senator Obama is "Black" or "Malado" is a matter of semantics. By the way "Malado" is slang term for a mixed race person taken from Spanish also spelled "melado". The English term you are looking for is "mulatto" or "mulatta" (male and female) both currently consider impolite and the prefered terminology in the current USA is biracial or mixed race. For now let us just celebrate that we have come much closer to the mountain top the Martin Luther King Jr. spoke of where we measure the merit of a person by their deeds and not their skin color or their parentage. Looking forward to a better tomorrow and may god bless. :)

• United States
7 Nov 08
"For now let us just celebrate that we have come much closer to the mountain top the Martin Luther King Jr. spoke of where we measure the merit of a person by their deeds and not their skin color or their parentage" Perfectly said!

• Italy
7 Nov 08
Hello, first of all, i wanna tell you, i understand you voted for Obama, so don't misunderstand me, i'm not talking about you, but in general. There is something curious in you americans, that always wonder me. Seems the only time when nobody care about the origins of someone there, is when they win some gold medal in the olympics. In that case they are ONLY americans. In all other cases they are, blacks, afro-american, navive-american, hispano-american, irish-american, italo-american, and so on. I'm proud to tell you that the blood is the same for all the people in the world, black, white, red, yellow, green..... And due the origin of america population (apart the pilgrim fathers, i guess you should know the first people sent in america were not from oxford or cambridge, nor from the Her Majesty entourage), i guess you should start, finally, to consider you all "americans". What's the meaning of that kind of distinction in 2008? If you wanna make a distinction, you could try to find the difference between the people with a brain, and the one brainless (like a certain woman that was so arrogant that not needed to check his illiteracy, and said in public that africa is a country. Nothing bad to don't know things, but you should be so smart to know your limits, and get information before talk, at least is supposed you need to take decisions that will involve lot of people. Who wanna be driven by a person like that woman?), so that you don't risk again to have this kind of person in the "buttons room" happy myLotting