Can President Obama make it up?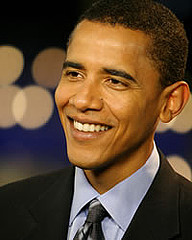 Philippines
November 6, 2008 3:47pm CST
The world know that America is in big trouble,economy has been fallen to its worst for the first time.People are worried because many lost there jobs.During the campaign for the presidential election mccain and obama tackle about that issues,but know that Obama has been elected for the presidential seat,will he can make it?he said that all of that could not be solve in just one term,but will he do all what he promise to the people of America?what can you say?Thanks....
7 responses

• United States
6 Nov 08
It's a big job, damage of 8 years my friend wont be easy to reverse. I believe that perhaps he can elevate the situation but totally cure it is highly doubtful. He wont be the first president during campaigning to make promises that he can't fulfill and wont be the last either. It will take time one term might not be enough but if he does make at least a dent in the situation i believe he might be around for a second but hey it's too early i guess we'll just have to wait and see.

•
6 Nov 08
I think you are right about there being all too many issues to deal with, from war to the financial issues, but I am hopeful that the new president with the help of congress and the rest of us will be able to drag us out the hole that last president and his bad wars and bad appointments to office have left us in... I know they all make promises, but I have hope that this one will at least deliver on half of them...

• United States
6 Nov 08
I really doubt it. He saying that he's going to save everyone money and "spread the wealth" but the only way to implement all these programs he wants it to tax the American people. We're in so much debt already so I don't know how he intends on starting the universal healthcare and everything else. He's also planing on cutting the defense budget which puts many of our service men and women out of a job. Add that to the millions of people who are already jobless in our country and it's not going to be pretty. I think, for the most part, he's all talk. I doubt we see many changes out of him at all.

• Philippines
7 Nov 08
We know that many dislikes him and many also likes him,and we know that since theres no such perfect politicians that had been elected,many promises are broken,only few are being implemented,hopefully now the incoming pres will see whats really the big problem,and he will work at it first.Lets give him the chance to do his work,who knows...lets cross our fingers....

• United States
6 Nov 08
I am really hoping that he can. We have come this far to elect him. I am hoping that he is able to tackle all issues that we face in this world.. It will be a lot to do. But, there is no time for time for talking, he just has to get on the issues that we now face as Americans. I hope that he is able to solve many problems that we have.. We sure have so many of them.. I think that he is bold and strong enough to handle them. He has proven that by standing firm in this presidential election.. He has proven himself to be too legit to quit!!!!




• United States
7 Nov 08
Am sure Obama will most of the records that have been set by BUsh in the positive lite. He sure has a lump job to do. its not easy inheriting such a country with the troubles of the past 8 years and so much expectation. Am positive he is going to make an impact on the world especailly to American. I believe in the change that he is come to represent. God Bless OBAMA!

• Malaysia
7 Nov 08
I dont think he can help to solve the problem. This is a world market trend and no one able to stop it. He only can wait the crisis over at least 2 years