Do you prefer to eat your french fries with your hand or with a fork?

United States
November 8, 2008 5:35pm CST
I ask this because I was just eating french fries with my dinner. I have a fork but I would pick my french fries up with my fingers. When I realized what I was doing I finished them off wiht a fork. What about you, if you are eating french fries along with something else that requires a fork, do you still pick your fries up with your fingers?
5 responses

• United States
8 Nov 08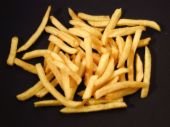 If they were chilli fries or with something messy I would use my fork yes. but normally I just use my fingers. Now if I am in a place where everyone else is using a fork and they gave me a look fo using my fingers I may consider using my fork....and that is a May...lol not a promise.... I have to be me

• United States
9 Nov 08
yes, and french fries are definitely a finger food.



• New York, New York
9 Nov 08

I use my fingers eating fries, it's more enjoyable and it is a finger food. It is also much easier dipping them into ketchup. Hmmmmm