Retail then and now? Have you been treated rudely by a sales clerk?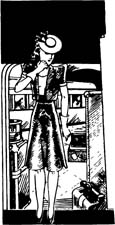 United States
November 8, 2008 9:18pm CST

Now when I was young and I worked in sales, we were taught that thee customer comes firdt. It was our job to be polite and do all we could to give the highest quality customer service. I was in a store today, looking for a product. I asked this sales clerk, where is this item? Instead of her walking over and helping me. she yells across the floor, ITS OVER THERE...no, yes mam, can I help you, or any coutesy at all. She did not ask is there anything else you need, or can I help you with anything else? Nothing, the big zero...things have changed...
9 responses

• United States
9 Nov 08
It seems like now days when you need help there is no sales clerk around and when you just want to look around they are all over you wanting to help. hahaha We used to have a variety store just up the road from us and there was a lady who worked there who was so unpleasant. I hated to go there when I was needing some material when she was working. She was the type of person who did not need to work with the public at all. I finally could not take it any more and complained to the manager and I was told that I was not the only one who had complained. The lady finally one day was not working there. I can understand someone having a bad day ever so often but everyday??? I was glad to see her gone and enjoyed shopping there again after that.

• United States
9 Nov 08

You know our managers never would tolerate that kind of rudness. I have no idea how they are training them now.I know some of them are not trained at all.

• United States
9 Nov 08
This was quite a few years ago and the lady was older but that still is no excuse. I had forgotten until now that one time I did make a comment to another person who also cut material back there about her rudeness and she said something about having some family problems and I told her that was no reason to be that way and she needs to just stay home and not bring it to work with her and take it out on the customers.

• China
9 Nov 08
Yes,I know your feeling about the unpolite sales clerk.I once had that kind of experience in the supermarket carrierfour,the cashier made a mistake by messing someone else's goods with mine.Instead of opologize to me,she blamed me.I got very angry and retorted.We coustems can not keep silence every time we met these kind of clerks!We custems are god!we should fight for our right! Remenber this,eaforeman!

• United States
9 Nov 08

I have kept silent my friend, but I am inclined to agree we need to stand up for our rights sometimes. That was so totaly rude.....

• United States
9 Nov 08
This is why there are jobs for people to mystery shop retail businesses. I am often asked to do evaluations of customer service. I do not do as much mystery shopping as I could, but I do also find myself saying, "Boy, they are lucky I am not doing an evaluation on them today." or "I wish I was doing a mystery shop here." I like to compliment good aspects of a business, but I sure do enjoy letting people know about the bad pars as well.

• United States
9 Nov 08
Ahhh, but I did mystery shopping for a major retail chain back in Texas and was finally asked to find something good about the place or I couldn't keep shopping.

• United States
9 Nov 08

I think its totaly unfair. What if its an elderly person who cant see well or cannot reach a product?I just wondered how people who are not well and have problems are treated? I am getting to the point, where I want to turn arround and leave and spend my money in a place where people are treated as they should be.

• United States
9 Nov 08
The worst story I have is from about 5 years ago. I needed some plastic shelves and the discount store I went to (you know the one) had just moved everything around to start putting up Christmas merchandise. The clerk I found couldn't find where they had moved the shelves. The customer service clerk couldn't get a manager to come and talk with me until I had waited about 20 minutes. He couldn't find the shelves either and he actually got rude and told me to try the other discount store across the street. I did, of course. I went directly to customer service, since they had also just rearranged the store for Christmas. Within 5 minutes, I had the shelves and was out of there and happy. Guess which store I used after that...even if the prices were just a bit higher.

• United States
9 Nov 08

Oh, its getting terrible out there.They act like if you ask a simple question, that you have sinned. You have ask them to earn their pay? I have seen the standards of customer service going down hill. I use to sell ten thousand dollars a day in high end retail, so I know whats what...lol they think we do not know when we are treated badly? They need to think again

• United States
10 Nov 08
I know what you mean. I'd like to think that it's because they're too short handed and too busy these days to be kinder and more helpful. I'd like to place the blame on the company itself, that they're not hiring enough people. I really would like to think that I'm right. I remember the good old days. I remember going to Marshall Field's and they would ask you if you would like your purchase wrapped. If it wasn't Christmas season, you'd get your purchase in a box with tissue. Christmas season? They'd wrap it. Right there at the checkout. For free. And it would look gorgeous. Now my beloved Marshall Field's is called Macy's and they never ask if you would like your purchase wrapped. If you want something wrapped now, you have to travel to another floor, find the counter hidden away and pay out the nose to have someone slop some paper on your item. I miss the times when a shopping experience really was an EXPERIENCE!

• United States
10 Nov 08

That is so true, its not about whats best for the customer anymore.

• Malaysia
10 Nov 08
Yes, I have been treated rudely by sales clerks, even though Malaysians are supposed to be friendly and courteous. Times do have changed and I managed to witness and observe their overall behaviour. It seems that some have this attitude entrenched in their minds, that customers owe them a living. Others are nice to certain groups of people. For example customers who dress well, looking rich and high class, are treated as if they are masters of the house. People like us are brushed aside as if we are beggars, I never re-visit places with such sales clerks.

• United States
10 Nov 08

I think you are right, just do not shop there anymore.

• Philippines
9 Nov 08
Being a sales agent, I know for a fact that in order to generate a sale we really have to be friend with our customers... it`s a very important key. You should have asked for the manager instead just to frighten the b!tch. hehe

• United States
10 Nov 08

They will just loose a customer and I am sure there are others who will leave too.

• United States
9 Nov 08
It seems like back then more ppl took pride in their work but these days alot of ppl just don't care. They can't be bothered. It's too bad b/c alot of businesses lose customers b/c of rudeness by their employees. [b]~~MY OWN PEACE WITHIN~~ **STAND STRONG AND BELIEVE IN YOURSELF**[/b]

• United States
10 Nov 08

I have just noticed alot more of it and I have been paying more attention to how customers are being treated.

• United States
9 Nov 08
It sure has. I have been treated in ways that when I was working in the grocery store, I would have been fired for. It is amazing what they can get away with now days.

• United States
9 Nov 08

Exactly, There is now way, that could have worked and acted that way. We had to say yes mam and yes sir. There was no pointing or walking away leaving a customer unassisted. It was automatic termination. Now, it seems the managers dont watch them or dont care and its really getting terrible. If they are stocking, they will ignore you and when we stocked, we were taught that you stop that minute and get over there and help. I am shocked that they are not embarassed by their own behavior....