sending limits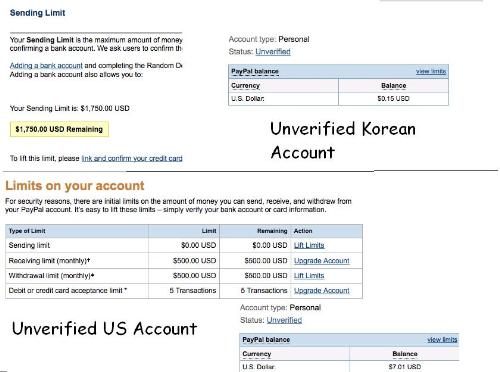 United States
November 8, 2008 11:07pm CST
How come my US Paypal account says my sending limit is $0.00 but my Korean account $1,750.00. Both are unverified, as seen in the provided picture, and were created in 2008. Any ideas? Paypal customer help hasn't been much help so don't recommend or suggest talking to them. I have uploaded a picture to show you what I mean.
1 response

• Malaysia
9 Nov 08
This sounds weird to me too. Is your Korean account have bank account verified? May be it might help raising your sending limit as well. Why do you maintain two paypal accounts? The U.S. sending limit couldn't be zero, I think it might some bugs in it. As far as I know, it only has receiving limits.

• Malaysia
9 Nov 08
I have checked your picture actually and saw the unverified status. But I remember when I newly joined paypal years ago, if I only verify my bank account or credit card account, the status still remains unverified. May be I remember it wrongly, because it was 6 years ago. By the way, you can always check it out with the paypal themselves. I think they will be helpful to resolve your problem. Good luck and have a nice day!

• United States
9 Nov 08
Maybe that is so. But I have two Korean accounts. I tried adding a bank account to one (the one I posted) but I don't know what happened because after I added I just returned to Account Overview. But on the other one, the limits are on the same. It says on Paypal that I can lift the limits by linking a bank account or a credit/debit card. It says this on ALL my accounts. I have tried contacting the Paypal customer support but they just told me that I must verify my account by adding a bank account or a credit card. Thank you for trying to help.