Who do people curse or abuse while driving?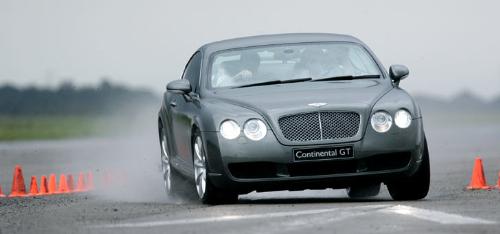 India
November 10, 2008 10:07am CST
Hi friends, Do u abuse if someone is driving slowly in front of u? Or if some one is giving a wrong signal? or some one overtaking from the wrong side? I personally try to keep my cool while driving. I dont think cursing will do any good to me or the person. It may result in an accident. What do u all do while driving? Cheers, Tutul
8 responses

• United States
10 Nov 08
i alwayas try to keep cool but that doesnt always happen i hate when people get in front of me just to drive 10 under the speed limit. however i have been in to accidents different people driving not me which has made me slow down and keep my cool longer

• India
10 Nov 08
Hi there, I hate traffic jams too. Accidents causes a lot of jams and i really hate to wait inside the car for long hours. Traffic jams can be very ugly in my place. It takes time to move things here and not to mention about people who likes to bang the horn every time when they know there is no place to move. Anyway thanks for responding. Cheers, Tutul

• United States
11 Nov 08
it gets crazy here to expecially because they are working on our free way for like 3 more years too maybe more there is always some construction with our roads. were you from

• India
11 Nov 08
Iam from Mumbai. The capital hub of India. Cheers, Tutul



• India
10 Nov 08
Hi there, Good that u r more patient now. Actually i believe you need a cool brain while u drive. I always prefer to keep my AC on while iam driving. It reduces the power of the car and also burns the fuel but still when my mind is cool.. i drive better, lol. Well i agree that some people have no road sense. I hate to say it but from my experiance most of the women cant drive properly. They get lost in their own world and causes a lot of accidents. Cheers, Tutul


• India
12 Nov 08
Hi, Yes i know exactly what u want to say. If the person is a dear one u shd make him/her calm and say that its not the right thing to do. Cheers, Tutul

• United States
10 Nov 08
I talk to myself when I drive. I guess it sounds like I am talking to other drivers to my kids and they call it rage. Far from it. If I hear someone beep I say, "Alright, have patience back there." I let someone cut in front of me, I motion and say "Come on...wave politely...come on,come on, come on. Big truck on side road wanting to enter main rd. "You, Stay there. stay...stay...stay... Can they hear me? Course not. My kids think otherwise.

• India
11 Nov 08
Hi there, Yes as long as one is not abusing or cursing then its fine. I have seen people throwing abuses from their cars and then involving in fights, accidents etc. It makes no sense. I know driving an be difficult in some parts of the world but it makes even worse if u lose your cool. I talk to myself too. I analyse things within myself. Which turn to take , when to over tkae and when to not, thats natural. But i really dont abuse or utter bad words while driving and when some one is sitting with me in the car. Cheers, Tutul

• United States
10 Nov 08
I try to keep my cool. Now and again I get annoyed and say a bad word but I don't yell it out for the other driver to hear. My husband used to show his tail. I told him if he ever did it with me in the car he had better drive till he runs out of gas and then jump from the car and run. I told him I'd grab the quickest thing and whoop him with it. There is no sense in driving wide open and risking your neck. Needless to say, he behaves while I am in the car.

• India
10 Nov 08
Hi there, LoL good way to teach some manners. Its very indecent to utter bad words when some one is sitting next to u. When iam with my family i dont say a single bad word. I just keep my mouth shut, play some light music and drive properly. A little bit of patience can be very useful at times. And while driving iam very patient. I would love to reach my destination 10 mins late than not reaching at all, lol. Cheers, Tutul

• United Kingdom
10 Nov 08
I have decided never to go in my friend's car again. He suffers from the most terrible road rage and I fear having a head on collision. Being involved in a car crash is not something on my wish list. One time he went the wrong way so shook the steering wheel and the car shock from side to side. I was terrified and he shouted at me in a nasty way. Then he went the wrong way down a one way street and he had to drive over the pavement to avoid hitting a car that was going the right way. Another time he went through a red light and almost knocked a man and two children over. When I was heavily pregnant I ran off from his car because I was so scared. He shouted at another driver and got on am showed his fist. I thought he was going to punch the driver and I got out of the car and ran into the park, along a footpath and to my mum's bungalow. I was shaking and crying. It is one of the best decisions I have had never to go in his car again.

• India
10 Nov 08
Hi there, The way u have described your friend makes me think, that he needs a thorough medical check up, lol. In my country (India) accidents can be very severe. Firstly for the conditions of road and secondly a lot of people drive in a drunken state. Thirdly we have the most amazing law system. The people who help the victim can get into lots of trouble. I don't know about other countries but some thing should radically change in India. Well after reading your post i also think that u have made a wise decision. I don't like people who get angry or irritated very quickly. Cheers, Tutul

• United States
15 Nov 08
I don't get abusive, but I do become very angry. Sometimes I feel as though the people trying to be "nice" are actually causing the accidents -- driving 10 mph under the speed limit gives the false idea that anyone can pull in front of you and a lot of times two people will go for the same spot on the highway, or when someone stops short to let a person turn into a street -- if there are cars behind you, they may hit into you if they aren't paying attention. I don't know, I think driving is just crazy in general.

• Malaysia
14 Nov 08
Normally I will keep a cool head and won't simply curse. Even in my daily life, I hardly curse at anything unless I'm super duper angry.