what is your favourite break fast?

India
11 responses

• United States
11 Nov 08
My favorite breakfast foods and pancakes and sausage. I don't get to have them often since I don't sit down to eat on most days. When I do get the chance to enjoy these foods, I end up having a pretty peaceful and relaxing day.


• Philippines
12 Nov 08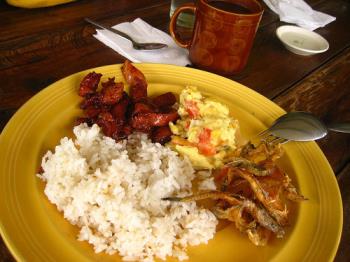 We usually have rice and a viand prepared in breakfast. The picture attached here is more likely the kind of breakfast we have. But we can also take in bread, or pan de sal.


• Philippines
12 Nov 08
i really wanted heavy breakfast and that would be rice and anything that is available, like eggs, tapa etc. because i really need to have energy especially when its weekdays and so much loads at work, but now im in a diet so in weekend i see to it that i eat light breakfast and also dinner...happy lotting!!


• India
12 Nov 08
Scrambled eggs with a bunch of things inside- tomatoes, cheese, mushrooms, peppers, onions, and sausage. Top it off with toast smeared with peanut butter. Great breakfast.. keep posting.. take care and have fun..



• United States
11 Nov 08
i don't know what puri is? mind explaining? my favorite breaksast is bacon, eggs & biscuits. i also like gravy or fried potatoes for breakfast. my grandmother use to fry chicken for breakfast. good!!! i love breakfast foods,even eat them for supper sometimes.

• India
11 Nov 08
Hi vimaal, My breakfast is corn flakes which taste yummy.I love to eat them every day. Have a nice day


• United States
11 Nov 08
I like different plates but I would have to say that eggs over easy with some nice toast with jelly is always good. Don't forget the coffee with cream! Sometimes I enjoy french toast with butter and syrup and don't forget the pancakes either. I think it is very good to start off the day with something to eat. You will feel better during the morning if you eat and have more energy throughout the day.