This was one of the best things about house sitting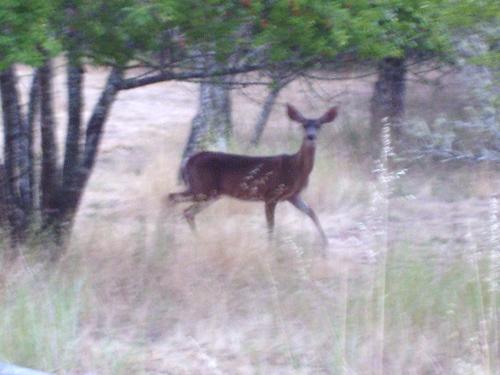 United States
November 13, 2008 4:22pm CST
Some of you probably remember that I had to head over to the California coast to house sit for my brother during the summer. I absolutely love it there because for one the property has been in the family for over a century, and secondly it is actually in the coastal mountains and it is so peaceful and beautiful there. The whole time I lived there when my dad was still alive, I never got to see the deer come onto the property...probably because my dog Sox loved to chase and catch them (she was a brave soul for sure). So when the deer started showing up while I was house sitting I was absolutely ecstatic, and I just HAD to get some pics of them. This one stuck around for quite a while, even with me and the Doxies out on the deck. I got a few pics but this one was the best. Does anyone else find these beautiful animals as enchanting as I do?
6 responses

• United States
14 Nov 08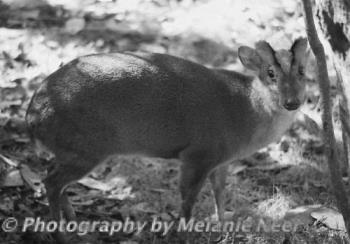 Aww--I love deer and sure wish I was blessed by seeing them, but living in a city area not likely. I think deer are beautiful and graceful creatures and maybe due to my "Bambi" complex could never, ever think of eating or hunting them..the only way I would "shoot" a deer is with my camera...as I did years and years ago, when I went to the Discovery Island area of DisneyWorld...like here. This is a "pudu deer" from India that was there and got real lucky with this close up photo

• United States
13 Nov 08
Awww Kat!! You've reminded me of a better time in my life just that I didn't know it at the time but when we lived in Texas, we had all kinds of deer come into our yard and they became so tame that they'd let us sit on the back porch and watch them and they wouldn't so much as offer to run off!! It was so cool to watch them graze on our property!! Yes I find them just as awesome as you do!! My parent's old place has deer coming into their front yard and eat out of mom's bird feeders so she could never fill them up completely because the deer would get a hold of them and shake them silly and sometimes knock them off and break them. Sometimes they'd come out of the woods with a baby in tow, one that still had it's spots. Now that's something to see too!! They're so cute!!

• United States
13 Nov 08
How cool! There was one evening I actually got to see the whole family of deer, babies included. But it was too dark to get a picture of them. The one time they showed up in the morning, my brother's Daschunds decided to bark their heads off at them and it scared them off before I could grab my camera.

• United States
14 Nov 08
My chihuahua ran after them and believe it or not, the deer ran away!! My chihuahua Peanut is only about a tenth of their size and yet they run!! Go figure. lol

• United States
14 Nov 08
LOL! Perhaps they sense, on some primitive level, the tiny wolf that still lurks within! Gotta be SOME reason! Maggiepie


• United States
14 Nov 08
I do like deer, but I can also understand that people that work hard on their yard might get a tad put out when the deer come up and eat all their hard work and the money they spent on their plants. I'm sure my cats would like them, however, so I might be putting food out for them, like I do the squirrels....

• United States
18 Nov 08
Kat, Elic has animal magic. She has this nearly shamanistic ability with cats & horses that has to be seen to be believed. If anyone needs a spitting cat's nails trimmed, for example, it's to ELIC that they go for it! Of course, if you've read my post about BATHING cats, then you know _I_ have the corner on THAT market.... G R I N Maggiepie, who is (as is Elic) a complete bowl of mush when it comes to "flealines," in particular.


• United States
14 Nov 08
Okay! I have now gone, seen, & left a comment. It's very lovely! Lucky, lucky YOU! :o) Maggiepie

• United States
18 Nov 08
You're more than welcome! I went back & commented on a couple or three other pics, but I couldn't find the deer again. Where'd they go? (Deer ARE good at HIDING! LOL!) Maggiepie

• United States
14 Nov 08
When MyfreakingLot lets me LOOK at your pics, I'll let you know what I think about them. Until then, all I can say is yes, I find deer very lovely. Maggiepie

• United States
18 Nov 08
BTW, speaking of deer...did you ever see that video that makes the rounds on the net every so often (& I believe I've seen it on some animal show, as well) of a tiny fawn that comes into a house through the DOGGIE DOOR?! It's so CUTE! And so funny, too. I wonder what it made of this peculiar environment? AND I wonder what the person who FILMED it thought! Maggiepie