He Had To Look So Silly!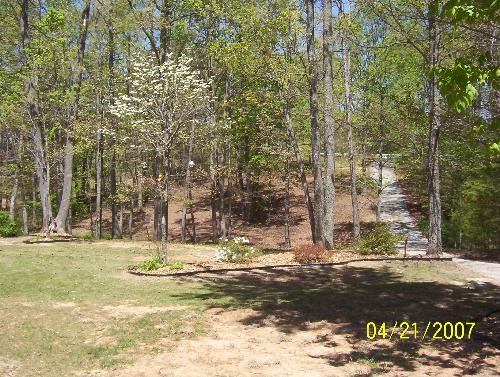 United States
November 15, 2008 1:06pm CST
My dear hubby and I have been working quite a bit in the yard and we had to quit because it's been raining the past few days. Today it's right cloudy but the sun has tried to shine through a few times but seeing the weather radar, we know we're in for some more bad storms. Last night we had a big thunderstorm come through and we expect another one sometime today. Well, yesterday during the day it was sprinkling or a drizzle type of rain. Still, hubby got tired of waiting for it to stop and dry out so he got on the lawn mower and mulched the leaves out front in the drizzling rain!! I didn't know he was doing it for I had fallen asleep on the couch, I was dogged tired obviously and when I woke up, I found him in the immediate part of the front yard mulching the leaves! Imagine my surprise when I saw him on the lawn mower in the sprinkling rain!! By then, he was almost done so there was no use in trying to talk him into stopping then. Oh well, it was one of our projects to get done before the rest of the leaves fell but we couldn't get to it because of working on other projects. We did get the ramp primed up and is ready to be painted but we have to wait for everything to dry up before we can do it. Right now the wind is blowing so hard that it's taking a lot more of the leaves down so we have another batch to mulch. Lovely. Never a dull moment around here!! Hubby is out back working on finishing the deck out there then it'll need to be primed and painted. Geeze, some day we'll get caught up. Some day!! But then again, something else will take it's place. Nothing is ever really done when owning a home but it's the freedom that we get too to be able to do what we want and when. We're going to be working on the other side of our property and cleaning it up once the rain stops and the front porch and back deck are painted. We've got to get at least ONE project done!! At least ONE!! lol Have you ever had so many projects going on at one time? Did you ever get caught up?
7 responses

• United States
15 Nov 08
I give up on the photo. Couldn't upload a picture of our front yard after five attempts! I hope I can get this response posted! We shall see: Hahahaha! Nope! You never get caught up. We have quite a few projects underway here, too! I was PLANNING on doing the same thing as your husband, only not in the rain! I saw that rain was coming so chose the day before to get the leaf mulching done. I revved up the old mulching mower and drove it around front. I went around the tree (we have a huge oak tree right in the middle of the front yard) about three times when I noticed that the right front tire was flat! Oh, man! So, the mower is still sitting in the middle of the front yard. I covered it with it's tarp but I started raining cats and dogs (

) before we could get it fixed! Yesterday we had lulls in the rain and my husband was able to get the tire fixed before it started raining again. But, it's still sitting there because it's been raining practically ever since! Tomorrow is supposed to be nice so I really hope I can get the leaves mulched! Oh, well. We do what we can, huh?

• United States
15 Nov 08
unny and cool here today but I managed to get some yard work done before the ground freezes though. Not a lot as I satarted coughing etc from my bronchial asthma. Getting more done Sunday I hope. HAPPY POSTINGS FROM GRANDPA BOB !!~

• United States
15 Nov 08
You take it easy with that bronchial asthma, Grandpa Bob! My son has that and the cold affects him, too. Well, and leaves, and trees, and so much more! He wears one of those medical masks over his face if he has to be out in the cold or doing yard work and it seems to help him some. Just a thought! I still have some trees and bushes to get into the ground before we have a hard freeze. Maybe, if I go pick up my son, he can get them in the ground for me while I attempt, once again, to mulch those leaves!

• United States
15 Nov 08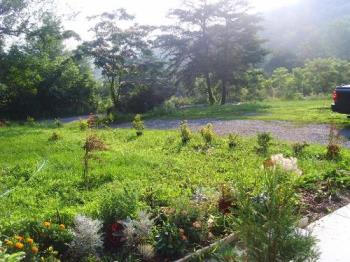 I think I figured out the problem with the picture... it was too big! LOL Your yard reminds me a bit of mine, so I wanted to post this picture for you. I hope it works! I'll get a shot of my oak tree as soon as it stops raining! That should be tomorrow. This was right before I cut the grass but before the leaves started falling. Yep, I'll have to get another picture of it tomorrow, including the oak tree. Anyway, here goes another try!


• United States
15 Nov 08
Getting caught up inside or outside my house is next to impossible! I can't do a whole lot because of the constant back pain. And my hubby, even though he really is a good guy, has graduated from couch potato to couch MOLD. LOL! So getting him to do anything on his days off....let's just say it would be easier to pull my own teeth without Novocaine. So getting caught up around here is pretty much a daydream. Kudos to your hubby for being so stubborn and persistent.

• United States
16 Nov 08
Couch mold, huh? Oh dear Kat!! You really need a can of kick
@ss
don't you!! lol I've got a can right here too!! lol What is it about lazy men? I can't stand a lazy man even if he does work, owning a home is more work and he should've known that before buying it.

But I guess he thinks the lawn mower is going to start itself and run on it's own, right? lol

• United States
16 Nov 08
ROFL!!! You are so right! OMG I'm laughing so hard right now I can barely type! I knew what I was getting into before I married hubby, so it's my own darned fault. That's ok...I've developed a pretty mean kick that gets him right off the couch (verbal kick that is Hahahahaha). I think I have a wedge around here somewhere if he gets stuck on the couch too badly.


• United States
16 Nov 08
Gotta love it, huh Kat? LMBO!! A wedge.... hmmm how about a wedgie?! I bet that'll get him up in a hurry!! LMBO!! Teeeee Heeeee!!


• United States
15 Nov 08
Oh yes, my house and yard is a work in progress. I have had my house just about 3 years. I had tons of things to do before moving in. Some things got put on hold because of moving in. I had wanted to get everything painted, I ran out of time. Then when we moved in we had a leak in the tub, it couldn't be used. A friend of ours volunteered to redo our bathroom. He worked full time plus had a family. So it took time. I couldn't take a shower, no place to do it. I did wash up and could wash my hair in the sink, but its not the same. I had to put the rest of the painting on hold. We did finally get our shower installed, that was wonderful. Then I had to get the house ready for Christmas. Then my hubby really did a number on me. It threw me for a loop, he passed away right here. Within a week my son, DIL and grandson moved in. They have recently moved out, they live across the street. I still haven't finished my projects yet. I do have to get busy again, specially now with only me being here. It was hard to get anything done with a house full of people and a toddler. The little guy is still over lots, he likes coming to grammas and hanging out and spending the night. He spent last night with me and is spending the night again, he wants to go to church with my mom and I. Now my money is funny, not funny haha. Its lack of money, I am not old enough to get my hubby's SS. The insurance money is gone, there are no jobs to be had. I have been selling on ebay and so far I am doing ok with that. Thats my goal to make enough online to support myself, so far things are going good and improving. With the holidays coming that helps alot. Your lat sentence, Do you ever get caught up, my answer...nope not when you have a house. But its so nice having your own house. Take care.

• United States
16 Nov 08
Dear Polly.... In your case, it's no wonder you didn't get everything done! Dang, if that had happened to me, I don't think anything else would've gotten done! I'm serious! Wow and I'm so unbelievably sorry that happened to you!! We really don't know what our future holds or what'll be thrown at us but some how we make it but only because of wonderful family and friends to help us along. Bless your heart!! I pray that everything else goes real smoothly for you for you only deserve the best out of life!!


• United States
16 Nov 08
Yes, just recently too..I helped a neighbor on Thursday along with raking up some leaves, by myself and moving them down to the curb..Then my daughter wanted me to go with her to dress rehearsal, so I did and didn't get back until late..And at the same time I was trying to get this deal on buy.com and finally found out how and got that along with having a bid on ebay which I won, but not with a lot of wondering..(my first bid..) Then on Friday I was trying to catch up when I thought that I needed to finished raking the leaves, which I am glad I did, the truck came around later that day..And my daughter friends were meeting here for her play last night and I needed to get ready too, so busy as anything and again, got back so late, I only did a few online things..Then I had to try to defrag the computer again and found that I could if I went to my computer instead of going into my startup/accessories..But it wasn't until this morning that I figured out the real reason and did that, so I couldn't get on this morning, so instead I went to get my license renewed, which took all day since we had to do shopping too since we were in town..Got back and after doing the disk cleanup and defraging, I get on and have 2 pages of mylot in my inbox and so I am trying to catch up now and probably really won't until tomorrow because I am getting tired..

In fact, maybe one or two more replies and I will be done for the night..I will have to tell all that had been happening the last few days later and hope I can remember it all...lol

• United States
16 Nov 08
Good gosh Carmela!! You sound too much like me!! lol We're going to run our butts to the ground if we don't watch ourselves. As long as we're breathing, there is always a tomorrow. If not then, who gives a hoot!! LMBO!! Gotta laugh at our situations for crying doesn't make it any better but laughing sure does feel better!! AND get this, I've got 6 pages of mylot discussions and doubt very seriously that I'll catch up. It's just too many but I'm going to give it a shot but I bet I delete them like I've had to before. I hate doing that but sometimes I just can't keep up, at least not with all that's going on with me.

• United States
16 Nov 08
I forgot to tell you, Thursday when I was helping my neighbor, my son had a half day at school.So I had to take a break, come home and get him, feed him and then go back over..As for your 6 pages, if I were you I would delete all but the first page, because once it gets to 3 or more pages, you will never catch up unless you are on for 24 hours straight or something like that..I had to delete many pages when my computer broke down, felt bad, but it was pressure off of me..

• United States
15 Nov 08
Oh please don't talk about many yard/garden projects going on at once. I had plans to dig a few areas for a new garden bed(s). That never got started. I did cover the areas to kill off grass etc. Then I made plans to transplant a lot of flowers to different areas as well. Yup you got it, never done. But I did manage to get my compost moved a little today and some leaves raked. Too much to do each day with a home and yard. But we love it huh? HAPPY POSTINGS FROM GRANDPA BOB !!~

• United States
16 Nov 08
HA! HA! Grandpa Bob!! So you're saying I'm not alone in this, huh? Gee, yard work is never done!! Always something to do and drive you insane till we do get it done. I don't mind doing it and in fact would be if it wasn't so nasty out but mother nature has it's say so I sit and wait a little bit longer. BLA! lol

• Australia
17 Nov 08
There is so much work to be done around my home but I simply don't have the mobility to do it myself...or the skills. I don't have the money to pay someone either...so, things don't get done.


• United States
18 Nov 08
Awww MsTickle! I wish we lived nearby for I'd be more than happy to help you out!! Do you have anybody, family or friends, somebody to help you out? What about member of your church group, if they knew I bet they'd help. Give it a try hon, there's got to be someone out there. I hope you find someone some where.

• India
16 Nov 08
what do u mean by silly? proper responding your doings are wrong? what do u mean?

• United States
16 Nov 08
He was mulching the leaves in the rain, that's what I mean by his looking silly. Hardly anyone cuts leaves or grass in the rain and my husband did that.