forgiveness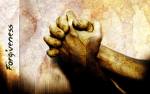 Philippines
November 18, 2008 2:19am CST
My parents got separated because of my father's womanizing. I know that separation is inevitable among couples and the child or the children are greatly affected by the said separation. But the worst, my father disowned me! He told me directly (face to face)"Your not my child!" Even if I resemble him a lot(except for I'm a girl) Many people even told that I am my father's "junior". I know it's bad and unchristian but until now I Can not forgive my father not only because of this but also because he has done a lot of bad things to us and to our family.. Can you forgive your father if you were in my shoes? Please share me your honest opinion. Especially those who have the same situation as mine.. please..
2 responses

• Philippines
15 Jul 09
... perhaps finding a way to forgive is a huge challenge for many of us. It is very difficult to get over negative experiences specially as caused by a parent. Personally, I would just tell my self: "he was just trying to survive." I have seen parents who really try to do their best to keep the family happy. But the sad news is that not all parents have the capacity to be good parents. If a person will do me wrong, I would think: "he was just trying to survive." If someone steals from me I'd think: "he was just trying to survive." When we are younger and things go wrong, we seem to put the blame quickly on the older ones. But when we get older and see the bigger picture, we'll feel more and more understanding and say: "hey, he's just trying to survive" God Bless

• Philippines
22 Mar 10
Trying to survive at my expense????? that's crazy!

• Philippines
22 Mar 10
I agree, it is crazy. As we age further we find out that some things are not as crazy as we intially thought. I suggest we all forgive and forget about any bitterness. Otherwise, the same thing that we hate so much will manifest in our lives. And we certainly do not want that to happen. [Wayne Dyer] We all desire to be happy and peaceful. And that happens only when we forgive unconditionally. May God bless you even more.

• Philippines
18 Nov 08
If I were on your own shoes, I think that I cannot give my forgiveness easily because of the hurt.But as a good Christian and follower of Christ, we both know what is the right thing to do.Forgiving and forgetting doesn't take in just a snap of a finger. It takes time for the wound to be heal.All I can say is you put everything in prayer. Give him forgiveness even he is not asking for it and God for sure will give what is due to you and to your father who abandoned you and your mother. Trust our God and cast everthing on Him.

• Philippines
19 Nov 08
Great advice... I also wish I can do that but as you've said, healing is a process.. I hope I will be healed soon.. Godspeed..