Shopping for a New Jacket for a 4 Year Old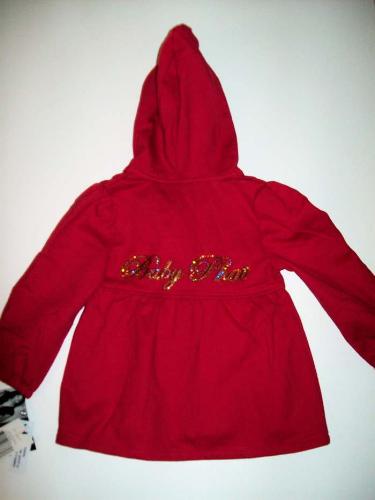 United States
November 18, 2008 6:22am CST
My husband and I took the 4 year old out to shop for a winter jacket yesterday. We tried to tell her that it was her jacket and she needed to pick out something that she likes. After 30 minutes of her fighting and liking anything we picked up, she finally picked out a jacket for herself. It was black with a fur hood. Had zippers up the front and pockets on the sleeves and silver kitty embordered on the front. Oh and it had a belt which was very important to her. We look at the price and it was $125 MSRP on sale for $79. My husband and I tossed around the idea of getting her the jacket anyways she did pick it out on her own, but then she turned around (see picture, noting hers was black not red). My husband told her she had to put the jacket back. Two questions, would you have bought the jacket if it was your child and what does Baby Phat mean?
8 responses

• United States
18 Nov 08
I guess I'm curious as to why you would ask a 4 year old to pick out her own coat in a store? That seems rather young to make such a decision. I mean they could pick out anything, at any price. Since I was the one spending the money when my son was young I was the one who made such decisions - especially at that young an age. As he got older he did get to put in his input on likes and dislikes, but in the end I was the one who made the decision on what to purchase. Kids don't think about things like care, cost, comfort or warmth. That is for us as parents to make those decisions so that the child is dressed appropriately.

• United States
18 Nov 08
Wow, what an awful person everyone here must think I am. I am teaching her independance. When she picked up a jacket that was not warm enough I told her that won't keep you warm. When she picked a jacket that was too expensive I told her it was too expensive. I would rather her have something that she likes and will wear then something I like that she is going to take off and never wear.

• United States
19 Nov 08
If I give my son a choice on something, I would pick out 2 things that I thought were acceptable and let him choose from either of those 2. That lets him make an independent decision on his own and he gets to have some say in the decision, but it also lets me have some control. I couldn't just have him picking out anything. It might not be the right kind of thing or within an acceptable price range. That's assuming that he was with me, though. I really don't like to bring my son shopping with me, but if he was with me this is how I would let him make a choice.

• United States
18 Nov 08
"Phat" supposedly means Pretty Hot And Tempting, but now a lot of people use it to just mean "Really cool." So I guess Baby Phat is sort of a play on words, meaning its something that is really cool and made for a small child. I do agree, it is kind of silly to pay $79 for a really cool jacket for a small child who will probably outgrow it by next winter! If she really wants it, you might want to try looking online to see if you can order the jacket, or one in a similar style, for cheaper. Try OVerstock.com, or even Amazon!

• United States
18 Nov 08
Baby Phat is the company designed and owned by model Kimora Lee Simmons. Shes abnoxious, but her clothes are nice, however for 4 year old? her older line is for girls with curves, i am curvy and love her stuff, but wont pay even that much. 4 years old they wont rememeber it anyway, i wouldnt encourage name brands by women who set the standards to high for girls anyway.

• United States
18 Nov 08
im sorry but a 4 year old does not need a baby-phat jacket, the line made by kimora simmons, yes russell simmons ex-wife. try somewhere like target, steve & barrys, you can get most jackets under 40 bucks, and they're all hip and in style :)

• United States
18 Nov 08
Phat is a brand of clothing, so Baby Phat is the baby line to the Phat. I think your first mistake was to not check the prices before you let her pick out a jacket. I let my daughter pick out her jackets too, but first I pick a few that we can afford and she chooses from them. By the way...no way would I have spent $79 on a jacket for a 4 yr old. Unless I bought it 2 sizes to big and she wore it for 3 years!! Was she upset about not getting the jacket?

• United States
18 Nov 08
Baby Phat is a brand name and no I wouldn't have bought it. I also wouldn't have said "pick what you want" to a 4 year old. I don't even say that to my 11 year old. When I go shopping for clothes for the kids, they get input in to what they like. That being said, I have final say as to whether I will buy it or not. If I feel it is inappropriate or too expensive, the answer is no and that is all there is to it. After all, it is my money buying it. Once they have their own money, but still live in my house, I will have the same statement. Once they live in their own place, they can do as they please. They will hear my opinion and they can do with it as they please.

• United States
18 Nov 08
If she is not comfortable and does not like it she will not wear so I might as well not spend the money on it at all. She should have a say, she is the one that has to wear it. I have veto power which we used last night, but if she likes and it is reasonable, I don't see a proble with letting her create her own style

• United States
19 Nov 08
Baby Phat is a designer clothing label. You were kind in the first place to let her choose a jacket. If it were me, I would buy one for him and that would be that. He would not get to choose. The coat that he's wearing now was 25.00 from walmart. It's a good, warm coat...I'm just not into paying big money for kids' clothing. They grow so fast and I always end up giving his outgrown clothes away to other people, so I don't see the point in spending a lot on his clothes.

• United States
19 Nov 08
Nah, I would never buy my daughter a Baby Phat coat. It's too expensive. Next year, she will just outgrown it and I will just waste my money. We bought her coat at Bealle's and it was for $30. It looks so cute and it's warm. It's pink in color which she loves so much. Dress for Less has a lot of coats which looks so good at cheap price. I may buy baby phat coats once it's summer as they drop the price way too cheap. I'll buy in big size.