I'm making chicken soup. Anyone have any good ideas for it?

United States
November 18, 2008 5:20pm CST
Two days ago I roasted a HUGE roasting chicken and I'm about chickened out except for soup so I've decided to make some. Hubby has a cold right now so I thought it would be good for him. Do you do anything special when you make chicken soup? With or without noodles? I'd like to try something different but I don't have any ideas other than the same old chicken soup I've always made. Any suggestions?
7 responses

•
18 Nov 08
Not sure what your usual chicken soup is like but my wife makes a wonderful chicken and sweetcorn soup, really good when I've got a cold. Just add a little water to the chicken pieces and a can of creamed sweetcorn, heat and just before it gets to boiling add a beaten egg - yummy

• United States
18 Nov 08
That chicken and sweet corn stuff sounds delicious! I'll hang on to that recipe for later. I'll probably have more chicken left over from the soup!

Thanks for the idea!

• Canada
18 Nov 08
when i make homemade chicken soup, i add a bunch of vegetables to it. i usually add potatoes, carrots, and corn. i sometimes also add a can of chopped up tomatoes. i also usually add rice or very small noodles (like cut up spaghetti or alpha type noodles).

• United States
18 Nov 08
Corn and tomatoes! I've put them in stews, usually beef, but never thought about chicken soup! My husband just walked in and gave me the thumbs up on the corn but made a frowny face on the tomatoes. LOL So, I'll add corn. Thanks for the tip!

• Canada
19 Nov 08
rice or noodles, potatoes carrots and any other vegetable that you want to put in,

• Singapore
19 Nov 08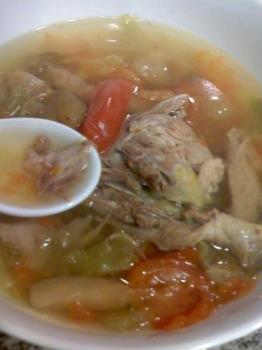 Well, in my recipe book, there are lots of different ways to make chicken soup. That would depend on what you want or what you have in the fridge. For a start, my favorite would be to put some dried dates, some chinese herbs and lots of chicken bones to boil the soup. Very nice! Another one would be to add tomatoes, potatoes, lots of onions, sweet corn kernels and maybe some button mushrooms, all finely diced and boiled with lots of chicken bones! A all rounder meal that everyone can enjoy. And especially nice when one is feeling sick. Another one I love to make is salted vegetable soup with chicken stock! I would get me a big slab of meat. Any meat, your preference. I usually use pork for this. Put the chicken bones and the meat into the pot and bring it to a boil. Add the salted vegetables in the soup and bring to a slow simmer till the meat is soft. If you have some tomatoes, add those in as well. And some dried red dates if you have. A very good and tasty soup. Best served with rice. If you want a little variety, instead of pork, use duck instead! A very nice alternative to the last soup I mentioned. Heh heh... those are just off the top of my head. I have plenty more different ways to make soup. But most of them are chinese in nature.

• United States
19 Nov 08
I make chicken soup with various leftovers--a bit of apple or other fruit, leftover vegetables, etc. I use chicken bullion for flavor and throw in some rosemary, thyme and a little sage. I usually thicken it, I hate liquid-y soup! Sometimes I'll make dumplings with it but rarely cos I can't afford the calories.

• United States
18 Nov 08
My room mate is making chicken soup right now!! Lol. He had roasted the chicken two days ago so we're using up the leftovers. Money's a little tight right now, so what we're doing is cooking down the chicken with celery, carrots, onions, rosemary and a bit of garlic. Usually we'd use egg noodles, but all we have right now are spirals, so we're using that. I also use rice at times, but that can be tricky as the rice absorbs the broth. Other great ideas to put in are canned or frozen corn, potatoes, green cabbage, hard-boiled egg quarters, or even make your own noodles! You can either roll out the dough and use a pizza cutter to make square flat noodles, or take the dough and kind of drop it in with your fingers in small clumps which my mom always called egg-rivel noodles. She made her own with I believe just a water, flour, egg combination. Another good idea, although I don't know how to make this one, is chicken tortilla soup. I've had it at mexican restaurants before and it is delicious! Plus it's got a bit of a kick to it which will really help to clear out those sinuses! Ooh, i'm hungry now! Good luck!

• Philippines
27 Nov 08
Ingredients for 6-8 dishes: 2 Tsp olive oil 1 tsp cumin 5 grilled green pepper, (peeled and cut for slices) 1 large onion, chopped 6 garlic cloves, minced 1 cup fresh coriander, chopped 1 tsp oregano 1.5L chicken soup 4 boneless, skinless chicken thighs, cut into bite-sized pieces Ground pepper and salt upon test 2 pounds frozen green beans, cut in 1-inch pieces. Preparation method: Heat olive oil on pot until hot add the onion until it's gold, add the chicken thighs garlic fry until the chicken thighs change to white season with oregano and cumin than fry another 1-2 minute and add the grilled green pepper, green beans, chicken soup bring its to boiled for 30 minutes add the coriander and cook for more 10 minutes, test and add ground black pepper and salt upon test. Servings suggestion: Red onion, chopped Avocado, cut into slices Fresh lemon juice Place soup on bowl and add the red onion with the Avocado and fresh lemon juice Bon Appetite. Hope this could help you in making a delicious chicken soup.