Palin speaks while Turkeys Dies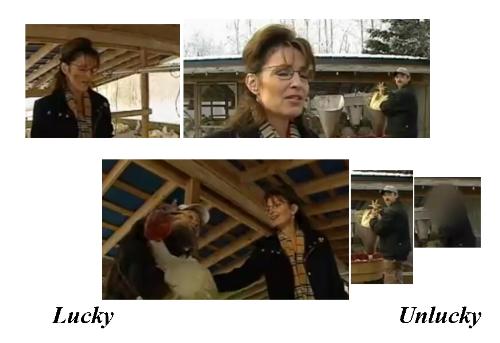 United States
November 22, 2008 5:09pm CST
Palin made a show of pardoning one Tom Turkey while a slew of birds are slaughtered behind her as she gave an interview. That was one turkey of a blunder by Palin. The news had the class to void out the bloody bits of birds loosing their heads. * http://www.youtube.com/watch?v=rJXFfTpPWlI&feature=related
6 responses


• United States
23 Nov 08
Sarah Palin didn't know what was happening right behind her. I think that was very obvious. The media knew and chose to keep filming rather than inform her that they should continue elsewhere or circle to the right so that wouldn't be caught on film.

• United States
23 Nov 08
So, several questions pop to mind. If Palin is so wildly popular why did her own local media set her up like that if it was intentional? Why wasn't this *pardon* done in front of the Gov's mansion or her office building or the turkey company...anyplace other than in front of the killing machines? What does the fact that this sportswoman didn't realize that there was killin goin on in that area during the light and sound checks say about her powers of observation?



• United States
23 Nov 08
This was poor taste on the part of the media and the guy that was flashing the birds to the camera was obviously thinking it was cute - what a jerk! Once again, the media has thrown Palin another punch and they should be ashamed.

• United States
26 Nov 08
The guy may have had an idea that flashing those birds would be a good way to diss a politician he didn't like. Who knows?

• United States
26 Nov 08
I hardly think she would have staged an interview in front of them killing turkeys on purpose!


• United States
23 Nov 08
Can you even believe it? Even more unbelievable is how Palin's supporters think WE'RE the villains for talking about this and that it was some kind of vast media conspiracy to make her look bad. Right, in her own state; I guess she's not as beloved in Alaska as some would lead us to believe if that's the case, right? Contrary to what some people have said in this and other discussions on this topics, those of us who thought it was a tasteless move aren't extreme animal activists who don't think anyone should have turkey on Thanksgiving! Some people, even those who are quite well aware where the turkey on the dinner table came from, don't care to see something like that when they're expecting a lighthearted "turkey pardoning ceremony"! Annie

• United States
26 Nov 08
If Palin was indeed clueless at least about what was going on behind her and was set up... All I can say is "Oh Man!" This was a brilliant diss if it was a diss...


• United States
26 Nov 08
I've heard several different stories about this now and I can't find a link for any of them. First I heard she was told about what would be happening behind her and she said "no problem". Today I heard where her spokesperson made a statement that it was clear behind her before the interview started and that after the cameras were rolling her people wanted to have her move over a bit and the cameraman ignored them. Spokesmen for the TV station allegedly deny that but say they'll give the governor the benefit of the doubt. No matter what ANYONE says, she looked right back at the guy killing the turkeys, or it sure appeared that way, and she had no reaction, kind of how she had no reaction when Vice President Elect Biden spoke of the deaths of his first wife and daughter. Annie

• United States
26 Nov 08
That whole interview was 'for the birds'. If Palin was clueless to the birds, someone got a royal diss on her. That was some really brilliant sabotage. If she was aware of dying birds, she should have known better, and catered to the squeamish constituents. It doesn't matter about the facts of life...

• Lancaster, New Hampshire
23 Nov 08
Just did a little more digging. this was never intended as a national coverage publicity stunt. It was a little story on KTUU, in Anchorage, that the national media got hold of and ran with in typicl ocd "OMG LOOK WHAT SHE DID!" fashion. If it hadn't been for the oops in the back ground, it never would have gottne a blip on the national radar. Signifigance FAIL.

• United States
23 Nov 08
The people in Alaska probably didn't even flinch. It the people in the lower 48 that throw fits over this stuff. Mostly because a lot of them are kinda a*** about it.

• United States
23 Nov 08
x, if ANY other public figure had done something as stupid as this it would have made the national news circuit...because dumb is entertaining. I have seen news reporters being pecked and bitten in some of the most embarassing places make the rounds of the national news for the same reason. I agree, if it hadn't been for that very loooong Oops moment, the footage wouldn't have gotten out of Alaska but it happened so that should be good for another couple of pages in her book!


• United States
23 Nov 08
X, welcome to the youtube generation, anything on video will end up on the internet, and if it is really bad on the news. This is nothing new in this time in politics, anything that can be used against you (or for you) will end up on YouTube. Sarah Palin's problem is that she has attacked the media so much that they are turning on her. She needs to do a better job of picking her enemies.


• United States
23 Nov 08
There was nothing wrong with what I seen. A slew of turkeys being slaughtered? I only seen one that might have been beheaded. Besides if you didn't like what you seen. You could have change the channel. Instead you decided to continue watching in discuss. Making a mountain over a moe hill. Get a life!!

• United States
23 Nov 08
"Hey mom, guess where we went on our field trip!" Said little turkey gut covered Billy.


• United States
23 Nov 08
Irish - +'d you because you made me laugh! Thanks!

• United States
23 Nov 08
Anytime! Next week Billy's class is going to the sewer plant!!!



• Lancaster, New Hampshire
23 Nov 08
Oh cripen ot again , eesh. this is the second post I've seen on this since yesterday. It's trivial nonsense. they should have dont the conferrence with different ccamera angles or in an off site location. but other than that, big deal. Palin isn't running anymore, she's back in Alaska for a few years, the elections are over, Obama won, we have VASTLY greater issues to deal with.

• United States
23 Nov 08
It's the "Palin Effect". They are compelled to repeat the same Palin dig over and over. Like mass OCD.


• United States
23 Nov 08
X, who in their right mind does a photo op at a slaughter house? You can blame the media all you want, but they didn't make her go there, nor did they just show up in hopes of seeing her. When was the last time you have seen a governor at a slaughter house? She made a mistake, this should be a lesson to her, and move on. I agree that we have greater issues to deal with, but it is actions like this that justify our votes on Nov 4.

• United States
26 Nov 08
Palin is a hunter, she may not see life as we more tender hearts do. That slaughter house was actually rather humane as compared to some vids I've seen on YouTube. The Butterball expose was enough to send lunch into keyboard.