Can someone help me with training my new puppy?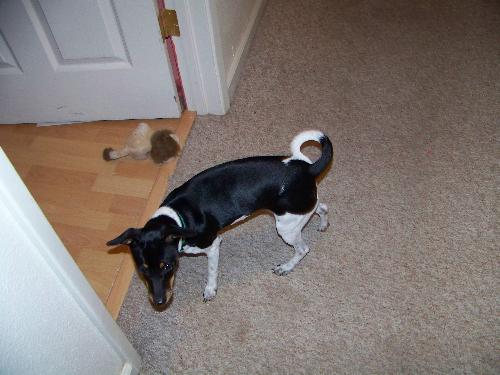 United States
November 24, 2008 8:43pm CST
I just got a 6 month old rat terrier. She is so cute and lovable. She thinks she needs to be sitting on my lap when she is not pinging off the walls. She has a nipping problem. I have been trying to work on that problem with her. I tend to hit the tip of her nose with my index finger when she bites me and tell her NO or stop. The trouble with that is she runs away from me before I can catch her. When I ignore her that is when she runs up and nips me. When she is mad at me she will bite me out of anger. I have held her down by holding her neck down. I have not hurt her but just held her down and told her no do not bite. It only took three days to learn not to dart out of the door when I go out. It took her four days to get her to sleep in her kennel. Now she will go into her kennel if I bribe her with a treat. Her biggest problem now is she continues to chase and bark at my cats. I go after her and tell her no and put her in a basket that I have for her. I make her stay in the basket when she has chased the cats. Can someone help me? This is something else I do. When she gets so excited I take her for a walk and let her walk on a retractable leash. She runs one way and I catch up with her and pass her and then she passes me. She knows not to go off the sidewalk into the street. She is a smart little girl and a love bug. Please help.
6 responses

• United Kingdom
26 Nov 08
Well to me it seems that you are doing the right thing, I used to tap them on the Nose with a News Paper or Magazine, as for chasing the Cats that could be her playing or it could be the Terrier in her so you need to watch that Love you

• United States
29 Nov 08
Gabs she is doing so much better. I shook my cane at her and since then she has been doing better. As I type this her and Petie are running up and down the hallway and wrestling also. This is the first time they are doing this. I think that this is a good sign. She also was up on our bed with a toy, Abagail was on the bed also and they were fine together. I hope things settle down soon and they all become one big happy family. It think we have some time before the cats really tolerate her and she stops chasing them. I took her with us to our daughters yesterday for turkey day. She did well until our daughter and I went shopping and left her with dad at a strange home. I guess Daisy was howling and crying because mom was gone. She will learn mom will always come back.

• United States
30 Nov 08
We are doing well as a whole but she and Petie just got into a big fight. I had to kick them apart. They will not stop and I am afraid someone will get really hurt.

• United States
25 Nov 08
Hi tea! She sounds like she is doing pretty good for a puppy that you haven't had for that long and for being 6 months old. I think that what you're doing is the right training for the biting. A light tap on the nose is the way to get a dog to stop biting, at least that's how I've always known it to be. And saying no in a stern voice so she get's to know that you are serious about what you are saying when you tap her after she bites you. If she was able to learn the other things she should be able to learn to stop the biting too! Just keep doing what you're doing and she should outgrow it!

• United States
26 Nov 08
Her and my Petie got in to a big fight yesterday and when I went to break them apart I got bitten by her. I scolded her and put her in her basket. Then she chased my cat Abagail out the door and over the fence before I could stop her. I went after her with my cane. I just shook it at her. She pouted all evening and spent most of the evening in her kennel. You see she knew she was in deep doodoo with me. Now this morning her and my Petie got into a pretty bad fight and I took my cane and taped both of them. They where fighting over a chewing. Its not like I do not have 9 or 10 of them laying around the house. I put them both in their baskets. I have baskets for them to sleep/nap in in the office and then they have their kennels. I threatened to lock them in their kennels while I went to work today. I would never do such a thing. They both know they where in trouble. When I got home at 1:30 from work I went and took them both out for a walk. Now this evening things are a better. they seem to be getting along better. Abagail spent the day in the house with the dogs.(., mbn Daisy helping me type) After our walk I went to see if Abagail was still alive and well. Abagail was on our bed and Daisy got on the bed when I was loving Abby and started licking Abby's face then started nipping some. I told Daisy to get off the bed and she did and waited for me to finish loving Abby. I am impressed and told Daisy what a good girl she was. I will tell you this morning after the fight this morning I was in tears and regretted getting Daisy.

• United States
26 Nov 08
Ahhhh tea~It's something new for all of them. Give Daisy a chance and if you have to put her in the kennel the do it! That may be the only way for her to learn! Some puppys are harder to train! You can't have her upsetting Petie and Abigail. They were there first! Daisy will have to learn! Don't get so upset. She will learn or you will have to be more strict with her. You don't know what she is used to doing before you got her so she kind of has to be untrained. Just keep being firm with her and don't let her get away with torturing Petie or Abigail!

• United States
26 Nov 08
I have been firm with her. I just hate Petie and Abagail to be in such turmoil when I know it was my fault. This morning Daisy has been a good girl and not barked at Abagail when they where in the same room. There is hope. I just was so tired because of all the extra work and I also think it has to do with the grieving of my Granny. I keep crying at the drop of a hat. I know "And this to shall pass" My Granny said she want though this when she lost one of her sister's. Thanks for responding.

• United States
25 Nov 08
Have you ever watched the show the Dog Whisperer with Cesar Millan. He is probably the best dog trainer that I have ever seen. He can help fix any dog behavior out there. If I were looking for tips, that's where I would go.

• United States
25 Nov 08
I have learned a lot of tips from him like the one of holding her neck down when she is biting in anger. She is great.

• United States
25 Nov 08
My puppy nipped for quite a while. We got him a Kong as well as many, many chew toys. If he started nipping us while we were playing, we would either ignore him (doesn't seem to be a good option for you) or gently close his mouth. Honestly, though, I think it is a phase that they go through (so many of our friends have gone through this with new puppies) and you just have to wait it out and be consistent with your training. In terms of how to help the cat chasing thing, we have just taken to yelling at him (in the nicest way possible, of course :) ) when he does it. We also have picked the cats up and brought them over to him while we were holding the dog so that the cats would learn to stop running. Finally, we have found the retractable leash a problem for just the reason you mentioned. Puppies go everywhere. I would try a traditional leash and see if you can't teach her to walk closer to you before I put her on a longer leash.

• United States
25 Nov 08
Thanks for the advice, it has been 6 years since I had a puppy and my mom trained him because I was at work most of the time. As far as the retractable leash I love it because she can run back and fourth and get more exercise. She does not go off the sidewalk into the street when I keep reminding her. It is funny she drags my Papillion around who is 6. He does want to go on the walk. I am afraid if I do not put them on a double leash they will wind around me and trip me. I walk with a cane so I do not have two hands to hold two leashes. Petie keeps wanting to go and I do not have the energy to take one at a time. I do not have someone to walk with most of the time. I will try the cat thing and see how that works. The one cat is coming out of the room and holding her own better the other one is running and staying away more often. I hope she does not run away.

• Philippines
25 Nov 08
I have no idea how to train a puppy... because that is not a common thing here in my country... most dogs are the ones who guard the house... so they stay outside... in my mother's home she has two dogs... and i don't think they were ever trained... but they know not to bite people... With how you described it... i think you are doing a pretty good job at it... it would certainly take time... but since you can see good changes... that just proves that you are on the right track...

• United States
25 Nov 08
I wish I could help you, but I have not has a puppy or dog in many years, just have my kittys and bird. I can not even remember how I use to train a puppy. I wish you luck though, and being that it is a pup I'm sure it will learn in time.

• United States
25 Nov 08
Thanks my friend. How are you? I hope you are doing well. This week so far I am feeling better. Time will tell I have been up since 3am and have worked for 8hours and have more work to do tonight and have to go in to the office tomorrow.