Last book you read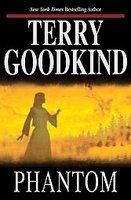 Philippines
November 7, 2006 11:52pm CST
Mine was Phantom by Terry Goodkind, it is a fantasy book and the 10th in a series. How bout you?
6 responses


• Philippines
8 Nov 06
mine was dan brown's the da vinci code...but it has been almost a year since...hehe...=)

• United States
8 Nov 06
The last book I read was Stranger in a Strange Land. I'm currently reading Lisey's Story by Steven King.

• United States
10 Nov 06
The last one I read was "The Cove" by Catherine Coulter. I am now reading "The Maze" also by her. It is the second book in her FBI series. I am half way through it so should finish it soon so that I can start the next one in the series...since I bought them all. LOL

• Sri Lanka
10 Nov 06
The Book i read was SHOGUN, it's part Fiction and part true,about the Japanese culture.