happy thanksgiving to all!!!!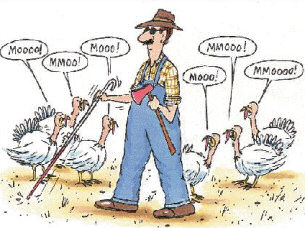 United States
November 25, 2008 1:04pm CST
the day is almost here...this is my blessing to all of you and your families!i hope your dinners are wonderful and filled with holiday spirit and family!i wish the best to everyone this thanksgiving.remember all the things you are thankful for and give thanks,it could always be worse.life is wonderful,isn't it?
4 responses

• United States
25 Nov 08
Hello there

Happy Thanksgiving to you and all your loved ones ! I am not so much in the Holiday kinda mood and prob wont be till after Thanksgiving ! I am looking forward to seeing my family tho . I will get to see all the people that matters and have a good meal to . I know we are blessed in many ways. Many blessings everyone ! Take care


• United States
26 Nov 08
then get in the mood!much to be thankful for!!your family is comming and this is a time for joy!!!so shake it off,whatever is bothering you and get in the groove!good luck to you and happy thanksgiving!

• United States
25 Nov 08
Thank you, marquita. The very same to you! Wouldn't it be wonderful if everyone took the time to be thankful every single day for everything they have instead of crying about what they don't have? Life does get in the way sometimes, but I feel that if we honestly looked, we'd see so much to be thankful for every day of our lives. A Very Happy Thanksgiving to you!

• United States
26 Nov 08
believe me i had to learn the hard way,i know how wonderful life really is.i have my health,three beautiful babies,and my life to spend with them!things are so much easier now that i'm not thinking of all the things i don't have.life is good!and i'm thankful!!!and to you as well!!

• United States
25 Nov 08
happy thanksgiving to you to I cant wait for it since where having it at our house for the first time in a long time. And I cant wait to see some of my causins who I havent seen in a few years so Im looking forward to seeing them again and playing guitar hero and rock band 2 with them lol.

• United States
26 Nov 08
sounds like a whole lot of fun!!!enjoy your thanks giving dinner this year!thanks you so much for your response!!guitar hero sounds like a lot of fun also,i got to play it for the first time last year.it was awsome!

• United States
25 Nov 08
Thanksgiving is one of my favorite days. Our family gets together for fellowship and a wonderful meal. This year we will be celebrating at my grand daughter's home. There will be at least 24 persons there, we will have two turkeys, one will be deep fried and the other one will be baked in the conventional way. I never get criticized for eating too much, I always warn everyone that I am going to pig out. It has been a tradition to get together on Thanksgiving as long as I can remember, the only times that I couldn't make it was when I was in the military service for six years. During WWII two of my uncles, one cousin and my step dad were away at Thanksgiving time, but the family carried on the tradition anyway. I hope everyone has a great Thanksgiving and holiday season. I pray the wars in this world will be over soon and all young men and women serving their countries will be able to be home and join their families for the holiday season.

• United States
26 Nov 08
oh, wow!the deep fried sounds so good!well pig out is what you should do for sure!!!i know i am!you are going to have a lot of friends and family over,i hope you enjoy!and yes my heart goes out to all our heros and their families!god bless america!and happy thanksgiving to you and your family!