A day in Bangkok

Australia
November 25, 2008 6:34pm CST
A day in Bangkok can be an interesting experience for tourists and locals. I live about one-and-a-half hours drive from the capital, and dread the times I have to visit. Yesterday my wife and I had to get her Australian Visa, so that meant Bangkok here we come. I refuse to take the car as the traffic is impossible, and parking is difficult. The bus took one hour, so that's the amount of ime I spent with my knees up under my chin. Next the BTS, which is an overhead rail. It was peakhour, so this was not good either. Next was a motorcycle taxi. For those who don't know, this is a ride on the back of a motorbike in amd out of cars and busses through the busy streets. It's a horror ride for the inexperienced' The drivers said they knew where we were going, but when they dropped us off, end recieved their fee they were gone. It was the wrong building, so next was a taxi. When my wife opened the taxi door to ask the driver if he knew our destination, there sitting on the front passenger seat was a two-way radio and a gun. He was an off-duty policeman, and hadn't yet put these away. His helmet wes behind the back seat. I hope I don't have to go to Bangkok for a long timeHave you ever had a horror day? Let's hear about it?
2 responses

• Philippines
26 Nov 08
hi mipen! oh i would love to visit bangkok in particular, and the rest of Thailand in general. i think i will love this old place that is full of culture. i am sure there are a lot of modern sides to it, but what i really want is to revisit the past. i don't go shopping when i travel, rather i visit places, study more about them, and have pictures taken. that for me is educational travelling. i dunno when my hubby and i can get to travel again. we didn't have an out of the country trip this year because i got pregnant in the middle of the year. maybe when the baby is older we can all take a family trip and make it educational for our child. till then, we can save up for it. :-) so no horror story for me to tell. hehe and i hope not. i would love an enjoyable hassle free trip. :D take care and God bless you!

• Australia
26 Nov 08
Good for you. What I wrote about was my bad day in Bangkok yesterday. Thailand has so much going for it, except stability in governmentte. I opted to stay here for the last ten years, so I love the place, and love going up country and staying in provincial centers. When you visit, I'm sure you and your husband will have a great time.

• United States
26 Nov 08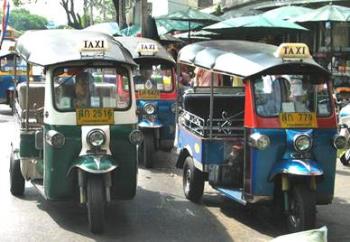 A day in Bangkok may be very stressful. I have heard that transportation in Bangkok is very wired and very different from transportation in Europe and in USA.... They probably have rickshaws and many bikes.

• Australia
26 Nov 08
Well thare are hardly any pushbikes, but thousands of motorbikes. Rickshaws have been replaced by Tuk-tuks, a three wheel covered unit powered by a motorbike. I only travel to Bangkok when it's absolutely necessary.