Something to be Thankful For - Coultergeist's Jaw Wired Shut!

United States
November 25, 2008 10:59pm CST
I know, I'm nasty, right? Sorry, but it couldn't happen to a nicer person. It's been reported that Ann Coulter has broken her jaw and had to have it wired shut, effectively keeping her quiet for awhile at least. I'm not sure how she broke it - someone said she fell, but I have no details - but I'm wondering if there isn't a cover-up and somebody slugged her one...lol? Karma's a real b1tch...especially when it goes AFTER one! Annie
9 responses


• United States
26 Nov 08
My husband read that to me yesterday and I was thinking I wonder who hurt her. After he was done reading it to me he and I were talking about who would have done that to her. I have only heard her talk a few times and I find her repulsive so it makes me wonder if someone did have enough and punch her. I guess if once she is "unwired" lol and is nice maybe that will give us a clue that someone did clean her clock.

• United States
27 Nov 08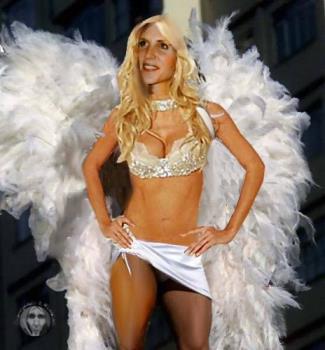 Tee Hee! Bet she did get slugged.I just had to post this photo of her. It is titled "Sexy Avenging Angel" but I think it looks like a female impersonator in drag!

• United States
30 Nov 08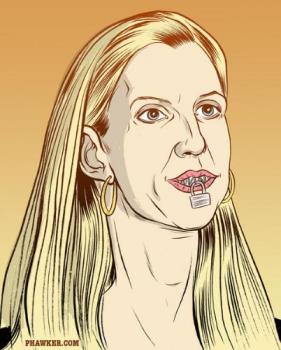 • United States
27 Nov 08
Oh annie, play nice now. True she can be annoying, but hey so is Carvell in my opinion. I have not heard what happened or how she broke her jaw. Looks like a liquid thanksgiving for her.


• United States
3 Dec 08
I can not really tell you how bad she has gotten lately. I just tune her out.I am conservative and I find her annoying. I do know Carvell was all over CNN during the general and he drove me nuts til I tuned him out too. Why does hte press give so much air time to such annoying people? I say when her mouth is fixed we lock the two of them in a room together for a week. Let them drive each other crazy. Maybe they will realize how annoying they are and tone it down.


• United States
26 Nov 08
Taskr, first off I don't consider what I've read here as anyone "wishing" her physical harm but rather expressing the view that she had it coming and/or we can understand someone wanting to punch her out. There's a difference. Next, while Coulter is an arrogant right wing extremist, that in itself isn't why so many people can't stand her, at least it isn't for me. She's cruel and heartless and says hateful and hurtful things to and about innocent people. Al Franken is extremely liberal but I've never heard him say anything even remotely close to the kinds of things Coulter has said. If he did have that kind of cruelty in him it wouldn't matter to me what was politics were, I'd dislike him the same as I dislike Ann Coulter! Don't use Franken's book, "Rush Limbaugh is a Big Fat Idiot" as an example either because that doesn't count. Coulter learned everything she knows from Limbaugh, I think. Annie

• United States
27 Nov 08
I can't feel sorry for her...snicker...she's a total b1tch...snicker...she goes out of her way to be hateful. What goes around comes around. I'd bet money that someone popped her one.


• United States
29 Nov 08
My only regret is that I didn't get to see it on live television...snicker. Unfortunately even if it had been broadcast I'd probably have missed it because whenever she comes on a reflex action in my finger causes me to turn her off! Did anyone else happen to see awhile back when Keith Olbermann received an Ann Coulter doll and proceeded to to bang it against the table until it fell apart? I suspect a copy-cat here. Annie

• United States
26 Nov 08
I don't know that I would wish harm on her even though she may deserve it in some ways. She has a streak of mean about her and often says things she shouldn't. I think there's a big dose of narcissism in there too. Okay, a really, really big dose.


• Canada
26 Nov 08
Poor blonde bombshell hehehe No sympathy here.