Are you fond of swimming?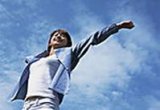 China
November 26, 2008 1:59am CST
My hometown is WenZhou which is a seashore city.It's beautiful and enjoyable.Every morning,I will have a walk after breakfast.Then,at the noon,I will have a swimming in the nearby sea.My capable of swimming is so good that I have several prentices.
8 responses

• Philippines
26 Nov 08
i love swimming too, but love more on hanging out in the beaches, especially when the day is good, its really relaxing, esoeciually when youre with someone, and also when youre with friends, happy lotting...

• China
26 Nov 08
If you want to do physical sports,I think swimming is the best choice.You can go swimming with your good friends or your lover.You will have a nice time.

• Philippines
27 Nov 08
ohh yeah!!and its good for the heart too, and it would be use to bond with friends, but with lovers??i think i should find one first before i do it!!lol


• China
26 Nov 08
If you enjoy swimming,you would better make full use of your spare time to learn it better and better.It may be a long time that you learn it well.But I think it is worthy of doing.

• China
26 Nov 08
Hello wgx. I love swimming, but I have to say that I am not able to swim because I don't know how to swim. But years ago, I went to the local swimming-pool with my family. I just stayed in the water with a life buoy, without which it is hard for me to stay in deep water.

I don't think that I will ever be able to learn how to swim as I have passed the golden age to learn how to swim, when I was supposed to.


• China
26 Nov 08
If you want to do some physical sports,I suggest you should go swimming with your friends or your lover.However,if you could not swim,don not request youself to do anything impossible.We should pay more attention to our life than the joy of playing. Thank you for your response,my friend.


• China
26 Nov 08
I think your condition is rather good.Whether in an indoor pool or in the sea,you will feel enjoyable.

• Shingle Springs, California
26 Nov 08
Is it warm water? I would love that too if it was warm enough, but I would stay away if it was cold!

• China
26 Nov 08
In summer,would you choose to swim in warm water?

• Latvia
16 Dec 08
I adore swimming. Although it is pretty cold environment where I live (even in summer water is not enough warm)- I am a good swimmer and enjoy it very much. It helps to relax. And it releases the pain from bones and in the muscles. I feel sorry for those who don`t know how to swim. It is a very useful skill, I think. Anyway: You never know when and what can happen with You. Maybe a boat turns around and You will have to swim till the land to survive. It would be an extra difficulty for others to carry You till the land, wont it? Probably You have a very good health, wangguoxiang, don`t You?


• India
3 Dec 08
I enjoyed swimming and learned when I was around 12 years old. Back then I joined a summer vacation camp along with my dad. I still want to join and swim regularly but then most of the swimming pools in my city are not well maintained. Hence I would rather practice any other exercise than swimming in this city at least.