Are you loyal to any brand of car? (toyota, ford, chevy, nissan...etc.)

United States
November 8, 2006 12:31am CST
I became a Ford owner a couple of years ago, but I am not at all loyal to Ford. Actually, I don't like the company at all. If I had to pick, I'd have to pick Toyota, as all the cars I had before this one have been Toyotas and have never given me any problems. I like the look and the feel and the drive of them. That's me, how about you?
4 responses

• United States
8 Nov 06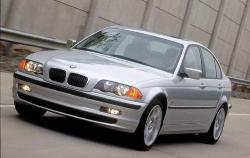 BMW! I bought one five years ago and absolutely love it!I have a 2001 BMW 325i and it's the best ever. Warning though, once you go BMW, you never go back to another model of car. I'm ready to buy my next BMW:)

• United States
8 Nov 06
We owned Fords all our lives. My father-in-law worked for a Ford dealership. However, we recently purchased the 2007 Toyota Camry. I don't think we will ever go back to a Ford now. the Camry is so smooth and quiet and comfortable.

• United States
8 Nov 06
I am pretty loyal to Subaru. I really like the all wheel drive but there are so many good cars out now.