Is this a wolf hybred?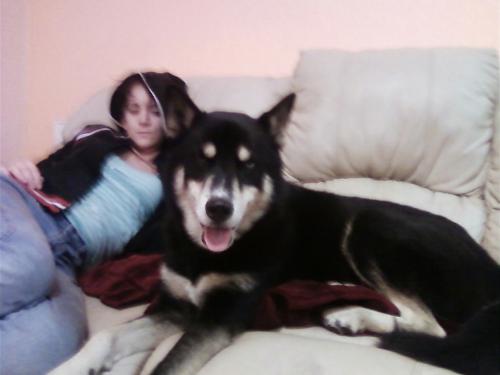 United States
November 26, 2008 7:08am CST
Found myself a dog. He's huge. Very sweet. Possessive of me though. What kind of breed do you think he is. He reminds me of a wolf.
4 responses

• United States
26 Nov 08
I don't really know much about dogs but that dog looks kind of like it has some Husky in it. Maybe your right with the part wolf but I don't know much about wolves either. He looks like a fun dog to have and play with and I hope you have a lot of fun with him.

• United States
26 Nov 08
I hae been having a great time with him.. He is so smart and loyal. He's very easy going and loves to play and be pet.

• India
26 Nov 08
yeah that sure looks liek a wolf to me...but i must say that you are one lucky gal.... the photo is a lil small for me to make out what dog it is but i must say it looks like a cross between a wolf and a husky maybe.... you should have described his temprament more !!

•
26 Nov 08
He is HUGE! But he is lovely, what a beautiful looking dog. He does look like a wolf in a way but I am not sure what his breed is, he is certainly big enough to look after you!

• United States
26 Nov 08
yeah. he is huge. i have a tiny dog too adn he is dominating her but she's not giving it up. I love this dog though. he smells really good and has a certain magical sense to him. it's the eyes i think. one is brown the other is blue. so gorgeous

• United States
21 Jan 09
Without closer inspection of him I'd have to say he might have a little in him. I have a few questions. Does he have a double coat? One coat that is long & stiff that sheds water easily & another that is fluffy & warm under the first? Does he have a large sail bone on top of his head? When you rub his head do you feel a very large ridge running down the center? Does he carry his tail curled over his back or straight? I guess that's a start....