what they understand...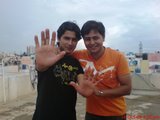 India
November 27, 2008 2:46am CST
hello friends... well i am an introvert shy person, and don't speak too much. and i have this problem of no able to defend my self even if i am innocent... i just can't say anything... many time i want to say, but i just can't say, and so i leave it on the other person to understand on his own, without defending myself, thinking that the truth will come some day... but it never comes... and i taken for what i am not... what should i do??? in this kind of event what does the other person think??? am i wrong in this kind of situation???
4 responses

• Malaysia
27 Nov 08
If you are innocent, regard your critics as ignorant and in need of guidance. One of the best ways to avoid such problems is to reduce as much as possible contact with such evil people. It is better to lead a solitary life.'let us live happily amongst those who hate'

• India
27 Nov 08
hi zandi. thank you for the advice. i will keep this in mind. but what should i do when my own people do the same to me... sometime they too took as granted, they took as for something else and this change their behaviour towards us. and this hurts a lot...

• Malaysia
27 Nov 08
there are many ways to break the cycle of negative criticism that erodes self-esteem. look for opportunities to validate others as often as possible. This act has a powerful effect on your outlook. Explore every chance to show those you care about what you admire, appreciate, respect, love and enjoy about them. The creative possibilities are endless as well as the opportunities to build lasting positive relationships with those close to you. They will definitely change the way they treat you and soon you'll be accepted as one of them.

• India
29 Nov 08
hello zandi, well its not like my friend treat me badly every time... but there are certain moments in life, when i am down i need some one , it is at that time they tend to do it. but i know they are not intentially hurting me, but they it without knowing. you know sometime it is very dangerous to save a drawning person, because to save himself he will hold us in such a way that nono will survive, it is in such condition that i am misunderstood. and ya i do appreciate what ever i like in my friends and enemies... and i am waiting for the right time to come...

• Philippines
27 Nov 08
Even if you're an introvert, you should learn to defend yourself especially when you're right... Don't just ignore the situation. You have a right to defend your side. Don't just shup up and sit tight... Try to speak up your mind...

• India
29 Nov 08
hello angel. thank you for replying. and yes i am trying to speak out, but don't know why i am afraid to face others. i want to defend my self, but don't want to hurt others by any means, even if i have to suffer. its my nature and my habit, and i am struggling to change it. that is why i take part in discussions... its the only medium to speak... thank you friend... take care...

• India
27 Nov 08
well if you are an introvert person and do not speak muuch..youll have a less no of friends!and if you are not able to say any thing or defend yourself every body will take you for granted.. one thing you should do is start making new friends and start to speak as much as possible..and take part in group chats..you should answer back whenever you feel the other person is wrong..and not just sit back and listen..you should try to make yourself more stronger..and dont just wait for the truth ..things dont solve themself..the other person never thinks about that person who never responds..so stop being so introvert otherwise you ll be taken for granted!! try to openup a bit!! good luck!

• India
29 Nov 08
hi doctor, well that was a very nice advice, and i really appreciate it, and i will try my level best to follow it. and yes i do have only a handfull of friends, and i am trying really hard to make new friends.and i m trying to speak my mind out. but when i am wrong i can try to defend my self, but when my friend is wrong, i can't point out that he is wrong. and ya because of non responsing i have suffered a lot. but being an introvert is not in my hand, its my nature, in my blood, and i think i can't change it... but anyways thank you for everything... take care...

• India
27 Nov 08
I have seen many time so called friends take advantage of the introvert persons. they are making fun out of you always,. you have to stand against it. no other way.

• India
27 Nov 08
hi subha. well thank you for replying back. ya you are right that sometime its our own friend who makes fun of ourself. and at that time it hurts the most, because we don't expect this from them. but what can we do, because after all they are our friends. and as i told that i m shy and introvert, so i can't stand against it... anyways thank for the suggestion. i'll be more selective in choosing my friend... would you like to be my friend???