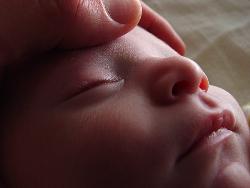 Australia
6 responses

• United States
10 Nov 06
I had a boy and he was born in 3 hours and 35 mins. My water broke at 8am on the dot and he was born at 11:35 am.

• Australia
10 Nov 06
thats quick, bet your happy bout that

• United States
8 Nov 06
With my first, a girl, I started having contractions 10 pm Monday night and had her at 5:51 pm the next day. With my son, I started having contraction at 4 am. and had him at 5:50 pm that same day. Both my kids were born on a Tuesday, all my moms kids were too and my husband! Isn't that odd?

• Australia
8 Nov 06
That is rather unusual, I've never heard of that before.

• United States
18 Nov 06
My first child i went in on a friday night at eleven at night and then at 309 in the afternoon on sat. they gave me a c section. on my second child i elected to have a c section so there was no labor for that. i was going to go natural with the first went thru all the classes and everything but it just was not a happening thing.

• Australia
17 Nov 06
Because of complications the Doctor induced labour at 7.00 a.m. Monday and then I waited. My husband came to the Hospital for the time and had someone else milk the cows (we had a dairy farm at the time). We waited all day and then at 11.30 that night the Doctor saw me and told my husband to go home and get some sleep and to come in after milking the next morning. I had no pain, no nothing but was bored out of my brain by this time, so my husband left at midnight. Then at 1.00 a.m. I started to get some pains, so night staff called the Doctor and my husband. Couldn't wake husband of course. LOL Took me to delivery room, Doctor arrived at 1.18 a.m. and son born at 1.20 a.m. Tuesday. Because son was 4 weeks prem, he went into incubator and I was returned to my own room. At 4.45 a.m. I walked down hall to phone husband but wouldn't tell him what we had. It took him 16 minutes to get dressed and drive 17 kms to Hospital. :) Gee, it was just so easy. Well, not the waiting etc but the actual birth.

• United States
10 Nov 06
My first daughter (first child): the labor started around 7:30am, I had her at 5:21 pm the same day = approx. 10 hours My second daughter (second child): the labor started around 9:00 pm and I had her at 3:59 am the next morning only because they kept telling me not to push (had to wait on doctor)= approx 7 hours My first son (third child): the doctor asked me if I was ready to have him. Timing worked out (weekend and all) so I agreed to be induced~never again will I agree to that! I went in around 8:00 pm and they started all the stuff. I had him at 12:41 am = approx 4 hours if you take out the paper work time. My second son (fourth child): my water broke around 12:30 am, I called my husband who was working out of town at the time (he was about 1-1/2 hours away), drove the other three to the babysitters, drove myself to the hospital (20 mins), made up to the labor and delivery after convincing the ER that I was about to have the baby and had him at 1:24 am. The doctor and my husband weren't even there... = approx 1 hour I would say that each child and each pregnancy is different...

• United States
10 Nov 06
never experienced till now...