ReviewStream pays!!!Good review site!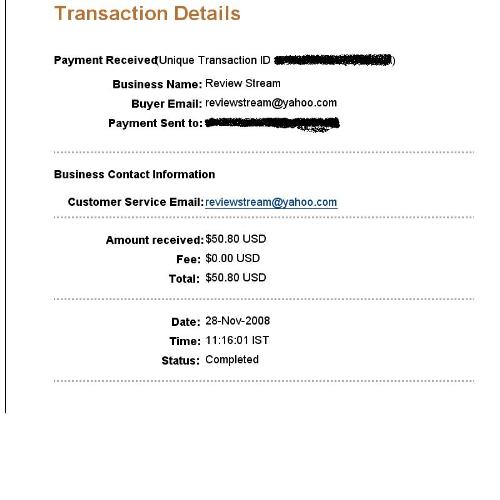 India
November 28, 2008 4:15am CST
For all you people who still do not know about ReviewStream it is a paid to review site. You review on ANY topic you want. You get paid $0.40 for an OK review, or $2 for a a really good review. I have reached the payout of $50 within 2 weeks. Today I asked for payment and within 5minutes I got my payment. This site is better than Ciao in terms of fast payment, and good rate per review. However to reach $50 payout might be frustrating for some. I had written all my reviews on movies, serials. This site is 100% GENUINE. It is NOT A SCAM, like some people say. You write a good enough review, with legible English and you will get paid for sure. It would take be 3 days to get my review accepted. But it was worth it. This is way better than PTC sites. So if you want to earn by writing reviews, then this is a damn good site.
6 responses

• India
28 Nov 08
Well i wrote a few reviews, but i dont know still whether they rejected it or accepted it. God knows when they will respond.

• India
28 Nov 08
Well they do respond if you are writing for the first time in 4 days. They will tell you if it is accepted or rejected. For me it takes 3 days, once I began writing everyday.

• India
28 Nov 08
Oh ok.. I think then i should continue with my reviews over there then.

•
30 Nov 08
Hi, how do you post reviews in Review Stream?

• United States
21 Dec 08
I know it does pay but I'm still about 45 bucks away from payout and that's discouraging. They should at least make it $25...:(

• India
21 Dec 08
Yea the high payout is really discouraging, but it pays you instantly once you request for payout.

• United States
21 Dec 08
Glad to hear they pay. I was actually looking into them again. The only thing that makes me wonder is.. why do they still stick with a yahoo email address & not a professional businessy one, or at least gmail?


• India
21 Dec 08
Well that does not bother me much, as long as get paid for my hard work, which I have been.

• India
21 Dec 08
hi sidwell.its very trusted site. i have hear many times but i have also hear that there is difficult to earn money over there.but you are saying that you will reach your payout in 2 weeks.its unbelivable.are you saying is it truth. what special you add on your review to earn 2 dollar for each review.if its real paying site ,then i will joined.can this is instant paying site. happy mylotting

• Hong Kong
14 Dec 08
Great, thanks for letting us know your personal successful experience with RS. I am working there and I think I will write diligently, hopefully to reach payout soon. I have only written two reviews and I will write more and hopefully they will get accepted. Good luck!

• India
14 Dec 08
Well there are two P's that one should have when writing for ReviewStream. One P is Persistence, to write reviews and earn $50 which is the payout. The other P is Patience which one must have, cuz they take atmost 4 days at times to respond to your review. But they are legitimate that is for sure.

• Singapore
28 Nov 08
HI sidwell, Congratulations on your payment! I knew anyone with enough patience would be able to reach payout. But you have surprised me when you said that you reached payout in 2 weeks. That's excellent. you have tempted me to try it again. Review Stream blocked my account when I accidentally submitted a review I have submitted elsewhere and deemed it plagiarism. Thus, my account was closed. I know I can start over with a different email add and all. But I must be willing to take the risk, lest they reject my reviews again. Anyway, enjoy the fruits of your labour. I still feel RS is better than ciao! I have problems writing reviews at Ciao. At RS, you can review anything.

• India
28 Nov 08
Well I doubt whether a new email address will help you, because along with a new email address, they log your I.P. address. So even if you write with an email address, but have the same I.P. it might be rejected again. I maybe wrong, but that is what I feel the reason why they keep a check of our I.P. address.

• India
28 Nov 08
hi friend,I joined and made a review but it was rejected.I wrote a review as I write in ciao but in review stream they reject our reviews.So I was not interested and I dont make reviews in that site after that.I think the reviews should be a very quality ones.I dont think we can earn very soon as we earn in ciao. Thanks for sharing.happy mylotting.


• India
28 Nov 08
Basically they want some substantial stuff in your review. Also if your English is bad, they will reject your reviews. You are right it takes time to reach the payout, but $0.40 is any day more than $0.25 right?