What do you like Sago't gulaman, or Buko juice?

Philippines
November 28, 2008 7:45pm CST
Usually I like sago and gulaman with a lot of ice really cold. How about you guys? Have a nice day to all of you!
9 responses

• Philippines
4 Dec 08
I think, in terms of taste, sago and gulaman rules over buko juice. Buko juice can sometimes be bland and is consumed quickly. Sago and gulaman however can still be savored in the mouth for a while. Cheers~


• Philippines
1 Dec 08
Buko juice, i like fresh Buko Juice, or Chilled Buko juice with Milk, Buko juice is medicinal its good for the kidney.

• Philippines
29 Nov 08
i choose buko juice because i have a problem with my kidney so i preferred buko juice over sago't gulaman. but i also like sagot' gulaman same with you i like it ice cold.

• Philippines
29 Nov 08
I like them both, just a slight preference towards buko juice because its more natural but both are really refreshing

• Philippines
29 Nov 08
I love buko juice but I want it to be pure (no ice, no additives). Just a fresh buko. For sago't gulaman, it depends on where I am buying it, but if I do it at home I don't put sago anymore, I want the plain black gulaman with pandan flavor. Home-made.

• Philippines
29 Nov 08
i personally like both but for health reasons, i think i'll pick buko juice over sago't gulaman. i used to drink buko juice everyday and i did feel healthier. i think both are better alternatives to over-priced sodas and artificial fruit juices. lol! try drinking your buko juice with some condensed milk and a little sugar. it really tastes great and is best served ice-cold. a real healthy thirst-quencher for the hto days ahead. anyway, reading this discussion makes me want to get some buko juice later. happy mylotting! cheers!!!


• Philippines
22 Aug 11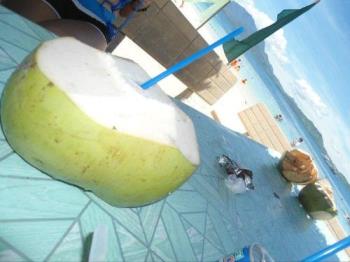 Sago and gulaman are both delightful but I love buko juice more because of the health benefits. It is one good anti-urinary tract infection drinks. I like it because it is very natural. It can be taken without anything added to it. In fact, it tastes even better if taken as it is. Besides after finishing the buko juice you can have another treat and that is eating the buko meat next.