i found out whats wrong with my cat.. sniff..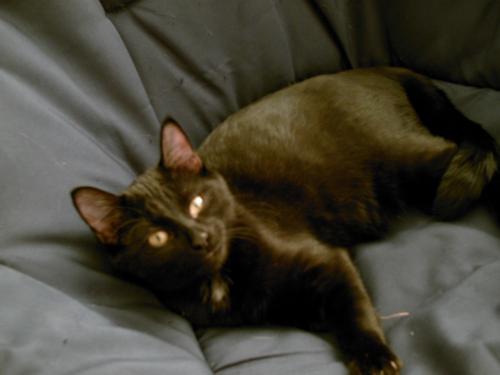 United States
November 28, 2008 11:28pm CST
i took him to the vet because he seemed lethargic and i petted him and he was even more skinnier to where his back bone was sticking out (i had a previous discussion on trying to find med sites for pets because i thought he had worms again because he had lost weight but other than losing weight he wasnt showing any exact signs for like more than a day or two at a time to where i thought he had something constantly etc and he has been eating and drinking FINE!! so its not like that was a clue) and since this cat hides out and isnt one to be petted or cuddled/held i had no clue till then it had gotten worse.. his fur had hid that fact.. so after crying till the vet opened i got him in and they asked me a ton of questions but since he isnt around me much i felt like a horrible pet owner because i didnt see the signs and put everything together.. he had the same symptoms as worms but as soon as he acted sick he would be fine again and i thought he had been gaining weight back sigh.. well he wasnt.. his tummy was swollen and they tested him for everything.. price didnt matter to me i knew if i waited till i had the cash i would never get him help so i charged everything and had them run the max tests on him.. well after me checking up and them finding out i find out he is highly diabetic.. im heart broken

i feel totally awful for waiting to take him but he can have it managed with diet and injections (this cat will not be a fun one for that) the problem though with changing his food is that my other cat has a stomach problem to where if he eats anything other than his prescription food he could/will die.. and there is no way of separating these two to feed them differently.. they both snack all day and my diabetic cat will get into the dog food too.. so we are starting with the shots and see how that goes and then when i have more money (i cant afford any of this as is period but its gonna work out somehow) and we figure out how his levels are then try to figure out how to work out the food if possible.. he's only 3 and his blood sugar was at 500.. its suppose to be like 100.. doc said he had never seen such a young cat that high..

im going saturday to find out how to give him injections daily.. at least im a medical junky and am good with needles etc but this cat took 3 people to hold him down to get blood so im kind of nervous.. i dont know anything about diabetic cats.. anyone had a diabetic cat? can they live normally as long as i do everything right?? the vet quoted me the prices for everything and i think it will be about 20 bucks a month or so for the insulin and needles does that sound right? any way i can stop beating myself up over this?? i know everyone has said im not a horrible owner because if i was i wouldnt have taken him into the vet but i hate that i didnt rush him first thing but freaking money..

anyways!! none of us are taking this good so any tips would be great.. im gonna try to ad a picture to this discussion but who knows if i will do it right lol
8 responses


• United States
29 Nov 08
they are suppose to show us all that tomorrow im guessing.. i hope he does ok with them giving it since if i seem him going all crazy on them today im going to really be worried when its just lil me and him instead of 3 people vs him

• Australia
29 Nov 08
oh dear, you poor thing, I haven't hear of a cat with this problem before, it goes to show you that animals are just like us and they can get the same sort of illnesses, I don't know how my cat would go with wht your going to have to do, my cat is not a very social cat either...i wish you and your kitty well....

• United States
29 Nov 08
One of my dogs had an illness and a good doctor, we had some wonderful discussions. My background is reasearch, so when he gets into medical jargon, I do understand. One of the things we discussed is the fact that cats ( and many animals) are carnivores and should not be eating anything but meat, no carbs. Those prepared foods are more carbs than even a human shoud be eating. In the wild they kill small animals to eat and that is it. He suggested forcats espacailly to feed them the raw food diet. fresh chicken and so on. I eat low carb because want to avoid diabetes, and I know people who havetype 2 that went low carb and got off all insulin. I know it is possible that if an perosn can get off meds, so can animals.

• United States
29 Nov 08
This is one website that is in agreement http://www.felinediabetes.com/diabetic-cat-diets.htm ifyou do a search for low carb for cats, you will find a number of good sites. Good luck.

• United States
30 Nov 08
makes sense.. i will have to read up and research the food he is on.. thanks for the idea!

• Singapore
1 Dec 08
Woah~~~ a cat also can get diabetes? This would mean a major change in the cat's diet. Did the vet also say why the cat has diabetes? Are its kidneys functioning ok? I know in the states if you approach the SPCA for help, you may even get some aid to care for your diabetic cat if you can proof that you need the aid. It was on discovery channel on the show called Animal police or something like that. The show concentrated on New York. I am sure the same benefits spread to other states as well. You can check it out at your local SPCA to see whether there is such a program in place where you can apply to.

• United States
1 Dec 08
he didnt say why or anything about his kidneys but said i could change him to diabetic food and that some cats cure themselves or something but that i need to give him insulin and could still feed him the prescription food he is already on which is what i am doing for right now.. ill have to check into the spca and see.. any help would be great!!

• United States
29 Nov 08
Awww I am so sorry to hear about your poor kitty. You know stuff like that happens and especially with the kittys that hide. I had a cat that had a broken leg but only came out of hiding for food. Imagine trying to get her to come out she knew that she was in pain and that if she came it would be made to feel better but she hid for 2 days finally she came out and I was able to get her to the vet. My sister has a cat that is diabetic as well and he is 17 years old and let me tell you this cat is gonna probably out live all of us lol. I am not sure but if money is an issue you may be able to have your rx filled at a normal pharmacy like walmart and take advantage of there 4$ perscriptions. I know that our local vet will call in any rx for our cats to walmart to help us save a few dollars. Any way good luck and I just know in a few days your kitty will be getting back to himself.

• United States
30 Nov 08
i hadnt thought about seeing if walmart had it on their discount list.. i will have to check that out!! thanks!!

•
29 Nov 08
It is not your fault, it happens that we do not always notice things wrong with our pets. I have heard of animals being diabetic before but I do not know much about it. I think the bad thing is the cost of everything I mean we all love our pets but long term this could end up costing you an awful lot of money. I hope everything goes alright for your cat though he is a lovely looking cat.

• United States
30 Nov 08
thanks.. yeah i think the worst thing is the money (other than the stress and pain of the actual illness) but im going to do anything in my power to keep him and do as much as i can even if i have to give up things.. i thought i wasnt going to be able to do the special diet when my other cat had needs but i found a way to afford it so i will do the same with him.. their my babies


• United States
29 Nov 08
Sorry to hear that, atleast it's something that can be treated. I hope with the training they give you that they'll be able to guide you to hold him down just so on your own to give him his shot.

• United States
30 Nov 08
well she demonstrated with saline water injection first which he didnt like but she did by herself.. when it came time for me to inject insuline he flipped out and some one had to hold him for me.. im hoping practice makes perfect


• United States
29 Nov 08
That's very young for a cat to develop diabetes. I can ask my daughter about life expectancy and what tips she has for you. She might know some cost effective tips. She gets criticized for her method of doing taking blood because it looks terrible, but it is actually quick and less stressful of the animals. People just don't like how it looks. I'll ask her about the best way to do injections on a cat that may fight. Your are certainly going to have to make a lifestyle changes where it comes to your cat When I first started reading about your cat it sounded so familiar. We went through an illness with one of our cats. She lost a lot of weight, was dehydrated even with drinking a lot. Unfortunately she got worse despite everything we did and when it came to the choice of making her go through more, we decided that was enough. It turned out she had a type of cancer. I can never remember the name of it. It was especially hard because she was my daughter's service animal and having to explain it to a autistic child was terrible. We ended up having her put down as nothing we did made her better. When I was feeding her with a medicine syringe, I knew it was time to let go.

• United States
30 Nov 08
my first black cat was always healty and then she would spit up a little bit but i thought it was from eating too fast and then she started acting funny so i took her to the vet and they have no idea but her liver just started failing for no reason at age 3 and we had iv's done and everything and it would help her for like a day and then she would be on deaths door the next day.. it was the hardest thing i have ever gone through and so im so scared with this black cat because im so afraid it will be some weird freak of nature thing too

im awful at taking animals/pets deaths