My favourite dog breed.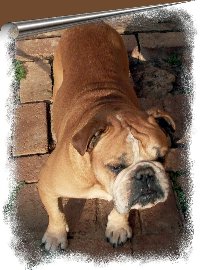 South Africa
November 29, 2008 4:30am CST
I love dogs. But my most favourite breed is Bulldogs. I have 2. And they are addorable. What is your favourite dog breed?
6 responses

• United States
29 Nov 08
I love bulldogs! I've worked with all of them; Eglish, French, Americans. What great dogs!! Add I love french bulldogs because I think they look like Stich from Lilo and Stich lol. If I ever get one I want a black or brindle one, and I'm going to name it Stitch :D I LOVE just about all dogs, and different breeds for different reasons. I don't think I could ever pick a truely favorite breed. I love Boxers for their adorable faces. I do love bulldogs for their personalities. I love Great Danes for their awesome size and lovable demeaners. I mean, this list could go on FOREVER! lol

• South Africa
29 Nov 08
Wow, you most certainly are a dog lover... lol on your comment on Frensh bulldogs.Yeah I can see the resemblance. What I like about the Frensh ones is their ears, they do have big ears for such small dogs. lol How did it come that you've worked with so many dogs, are you a trainer?

• United States
29 Nov 08
lol i LOVE French Bulldogs ears :P No, not a trainer. I'm a nightshift worker at a PetHotel. It is a really fun job (just some management problems

• United States
29 Nov 08
Yorkshire Terriers are my favorite dog breed. We have two and they have such different looks to them and different personalities Ernie: 8.5 lbs yorkie long and muscular with coarse hair (we keep him with the puppy cut look)... likes to get excited and bark when you come home Emmy: 4.5 lb yorkie small and petie. with long skilky hair (we keep her in the tradition yorkie looking sense)... she gets excited but you never hear her bark. Also emmy likes to get under blankies to sleep and ernie likes to sleep on top of them :)


• United States
30 Nov 08
I have 4 different breeds= Jack Russell, Chow mix, Giant Schnauzer, and Mini-doxie, but I have to say over the years that my favorite in demeanor, and personality has been the miniature Schnauzer. Mine passed away 3 years ago, and no other dog i have had has had his laid back, totally friendly all-loving personality.

• South Africa
1 Dec 08
Hey dsrtrose.Thanx for responding.When I was little I liked the Chow breed.Never had one though, today I think they are a lot of work, keeping them groomed.Juck Russells is a favourite also, great watch dogs in my opinion.Sorry to hear about your loss. The loss of a dog could easily be compared to the loss of a good friend.

• United States
30 Nov 08
My favorite dog breeds are the corgi, golden/chocolate labs, and huskies. Corgis, because I think they are the most adorable breed ever. Labs because to me they look the most friendly, and huskies because they remind me of my favorite animal, which is the wolf. :)

• India
5 Dec 08
My favourite breed is the Labrador. Though I had a Dobermann as a pet. My recent favourite is also a pug.

• United States
4 Dec 08
Gosh, this is such a hard question for me to answer but only because I love all dogs. Really, I love all animals. They are all special to me and there is not one breed, pure or mixed, that I would choose over the other or that I think is better then the other. Each dog is so special in its own way. I own four dogs right now. Three of them are Yorkshire Terriers and one of them is a Papillon.

• India
1 Dec 08
well my favourte is bulldog and i have to american bull dogs and now i planning get a pug...hmm i love dogs man,,,