What's been your best bargain shopping day this shopping season - mine was today

United States
November 30, 2008 7:05pm CST
I am organizing what I did today and found - this was a really cool day! First my daughter called me and asked me to get something at Target that was on sale today for her daughter and her working she couldn't make it. so I did that and then thought I"d continue. So I went to Mervyn's closing sale and everything was 50% off and today only additional 20% off kids clothes and toys - I got 70% off, that means I only paid 30% of the price.... for some great clothes for my grand daughters - Disney and Hanna Montana theme clothes! Jackets for them were only $10! I spent $75 and the receipt said I saved $135 had they been regular price! Then I went to the toys and got their birthday gifts for next March and April - Little fairy sets with coaches and stuff -they both love fairys! $10/$20 for $5 and $7! Then I stopped at Block buster and got my monthly free movie rental - Devil Wears Prady - an obvious "pilot" for Ugle Betty - (okay, but don't care to see it again.) picked up BOGO free Tacos at Del Taco and my monthly BOGO free Blizzard at Dairy Queen - I freeze them for later this week!! SO I came home and had a near free movie lunch! Now I am looking at my purchases again, and nearly have my 2 you outfited for few months from now - she is right between 3T and 4T so I got things in 4T so she'll have athem after the first of the year and finish out growing what she currently has and the tings I got her for 3T now are Christmas gifts - 3 Disney princess T-shirts, she'll love them! ($3.00 each!) I hope I can wait for their birthdays to give them the fairy sets - they are goig to love them but they have enough for christmas - maybe they will be a V-day gift!!! OR just a Nanny love you gift! I love it when I get good bargains like this - it happens so seldom (well the food happens often as I am always getting BOGO coupons) but the rest - I am going to check Mervyns later this week - they said they will stay open until all is sold and maybe they will be marking down more! So tell us.. what have been your best bargains days so far this shopping season?
3 responses

• United States
1 Dec 08
I shopped online at Kohls and got 2 high school musical shirts for $3 each and a Hannah Montana shirt for $3. Then I also found an And1 Basketball shirt for my son for $3. I think my biggest bargain was at Big Lots. They had hoodies for $2.50 and they were nice quality. I bought 4 of them~ one for each of my kids:)

• United States
1 Dec 08
Big Lots - I used to go there all the time when it was Pick N Save - but forget about it now that it has changed - guess I'd better start remembering it! Thanks is great bargains you found. Just goes to show we don't have to pay the huge prices to get the "good" stuff http://www.mylot.com/w/discussions/1802972.aspx#2_18496302 I shop Kohl's regularly on their Thursday sales -so far haven't found much. I was looking for pink kitchen appliances and things as my daughter is decorating her kitchenin pink and this is just the wrong time to want pink! The B Cancer only has their promo from May to Oct and there's nothing left now! But I got her measuring cups, meat thermometer and can opener 40% off and all in pink.

• United States
1 Dec 08
Forgot to mention too - Mervyns is giving away all their gift boxes - take what you want - FREE BOXES !!! So I grabbed a bunch for all thes clothes and other things I have already gotten and am using them right now! I am nearly done shopping - just need a doll house and a scooter and I'm done!

•
1 Dec 08
Welldone on your savings today. I love to get bargins also. The best thing I have got lately was a free light. My local shop was closing down and all their stock was sold of really cheaply. They had this lovely pink flower light on display and I asked the manager if he had any more. He said no and said I could take the one I saw on display for free as they could not really sell it with out the packaging. Well I was thrilled with this. I am going to miss this store as it was a really great shop. I hate to get bargins at closing down sales though, as it is someone elses exspence really. Take care and I hope you get many more bargins on your travels. I have held back on my Christmas shopping as I hear there is going to be a lot of deductions so I cannot wait. Bring on the bargins.

• United States
1 Dec 08
Hey, good job! Never hurt to ask! All they can do is tell you no, but they might tell you yes!!!! I think there will be more sales on till christmas....I thin this week they'll clean up after the Black friday and next week, they'll hit heavey again with sales, skip the next one and the week before the 25th - hit is heavy again. I'll be done by then but plan to watch for non-christmas things on sale!

• United States
1 Dec 08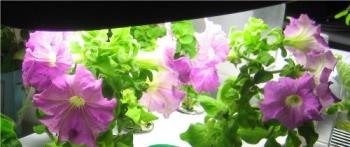 Congratulations! Sounds like you did well. I like the Nanny love you gift idea. I guess my most recent really cool bargain was getting all the flowers pictured below for $1.95 because when I brought the seedlings home they had finished blooming and gone to seed, but then I cut them back and in a few days, wow!

• United States
1 Dec 08
drannhh - cool! I sure wish I could do more with a garden - well, a garden period! APartment living restricts that ALOT!! Sure miss it!

• United States
1 Dec 08
Thinking about it, I guess you could grow a littel bit in an apartment. I didn't mention my other problem - total shade. My patio and windows are in total 100% full time shade - great to save on the AC bill, but can't grow anything! I could get the lights, but then again, for so little to grow, probably not worth the expense. Glad that you get to do it tho! i bet it is fun!