I'm upset, people are talking BAD about mylot!!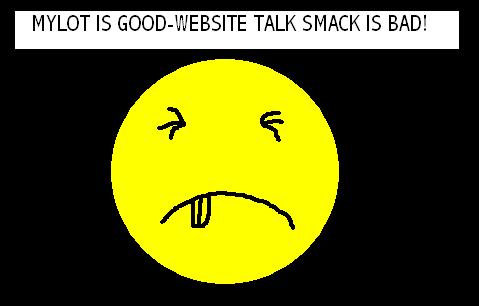 United States
November 30, 2008 11:06pm CST
If you type in mylot for a search, a few subjects down there is one about it being a rip-off. It upset me, because I never felt that way. I didn't post on here for a while and all of a sudden I have a measurable amount of money in my paypal account. I like mylot and it really upset me to read people talking bad. So of course I stuck up for mylot, why wouldn't I?
9 responses

• India
1 Dec 08
ouch .. yeah i know i noticed it too so u DID get payed by myLot? NICE!

• United States
1 Dec 08
Yep, I have been paid a few times, as time passes it seems to be a real snowball effect! Even when I haven't signed in for a while I was accumulating the $$$, which is nice, I basically could walk away for 4 months and then check my paypal and there will be a deposit.

• India
1 Dec 08
oh thanx this encourages me to myLot more

• Beaconsfield, Quebec
1 Dec 08
No one and nothing is perfect. People are going to talk, and some are going to say bad things. Honestly, I still enjoy mylot as well, whether or not it has its faults. Although it won't be easy, you might as well try to forget whatever awful things people might have said.

• Philippines
2 Dec 08
remember there are only two factors here in this world, it will always be in paired! good and bad, smart and dumb, naughty and nice etc. so what are you expecting for, there's no one sided here in this mystical world, it was just a thought! happy mylotting!

• Sao Paulo, Brazil
1 Dec 08
Hello, KaMlBob. Don't worry. Let others say bad things about myLot. We, the users, know how much myLot means to us. It doesn't matter what others says, because what really counts is how we feel. Don't you feel happy for being here? myLot is a great place that will pay you for your writing. So far, no other place I have found pays more than myLot, because myLot pays you to have fun. This cannot be found anywhere else. Not that I heard of, at least. Respectfully, Munhozmib.

• Philippines
1 Dec 08
Perhaps, these people criticizing MyLot expected too much from MyLot, or perhaps they misunderstood some of the rules, especially the payment rules.


• Malaysia
1 Dec 08
Do not be upset when people talk bad about myLot. I guess they are the impatient type and we can find them almost everywhere on the Internet. They usually expect their earnings to pile up because they have done many postings in a day. myLot is lenient with grammar and spelling (

) but for a discussion to be meaningful the postings should have some real content. Otherwise myLot will be pen to abuse.

• Malaysia
1 Dec 08
Well, I always think that no matter how good a product is, sure there are people complain about it. Different people have different opinions, or some people just don't appreciate and like complaining. We need to be upset with these people, as long as you think it's good and you like it, just enjoy spending time here.