Daniel Craig Vs other Bond heroes...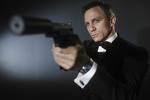 India
December 2, 2008 5:16am CST
Hi people...
I was really dissappointed after I saw the last two installments of the James Bond series.

There were no hi-tech gadgets, even the cars were very ordinary, and ofcourse, last but not the least, Daniel Craig. He dosen't impress me at all. His acting looks so ordinary. And moreover, for the first time, it feels as if James Bond is working for somebody. He dosen't have the freedom to make his own decisions. Really a let down... So, what do you think?? Share ur views... And who do u think was the best Bond?? I personally liked
Pierce Brosnan
the most.

He had the charisma of a spy, he made me feel as if the real bond looked like him only...

4 responses

• Turkey
5 Dec 08
I totally agree with you. The last two Bond movies are very violent and critics have also noted this, saying Bond actually hates violence. (See this link: http://rogerebert.suntimes.com/apps/pbcs.dll/article?AID=20081111/REVIEWS/811129989/1023) Pierce Brosnan is still the best Bond for me. He had the wits and humor unlike the new bond. Also what good is any Bond movie without Q (or his equivalent)? D. Craig is a capable and charismatic actor, but I don't like him as the cold and violent Bond.

• Canada
2 Dec 08
I think this is a by product of this politically correct world that we are living in presently. It would not be politically correct for Bond to act as if he has to give no account of his actions and decisions:) I liked Brosnan too :) I haven't seen this last one yet, just the trailers, but I intend to see it, if for nothing else just to compare :)

• Dominican Republic
2 Dec 08
Well... he wasnt that bad, I havent seen "Quantum of Solace" yet, but I sure hope is better than the last one... about the gadgets, I saw an interview with Daniel Craig and he said "in this movie, we wanted to show a more physical and animal side of James and his fighting skills, we wanted him to have more contact with his opponent"... but I gotta tell you something, I liked it more when the technology made its appearance. My favorite James Bond... it would be a tie between the original, Sean Connery, and the classiest one, Pierce Brosnan. Happy MyLotting and have a nice day! Xp

• United States
2 Dec 08
Yeah, I wasn't all that impressed with Daniel Craig. The best Bonds were of course Sean Connery and Pierce Brosnan. Lets give ol' Craig one chance before we throw the tomatoes...