In memory of my father: The village!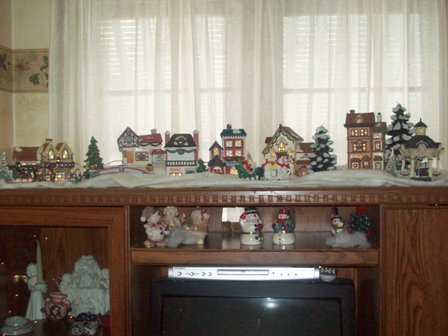 United States
December 2, 2008 4:11pm CST
When I was younger I spent most of my time with my mom. We even went on tons of vacations together without my dad. He would patiently stay home and take care of my dog or work while we were gone. After my mother passed I finally got a chance to get to know my dad....one of my very special blessing of life was to finally have a relationship with him. For Christmas each year my dad gave us money as a gift. He didn't like shopping or trying to pick out something for everyone. So every year with the money he gave me I bought a peice of a Christmas village. Now every year when I put up my Christmas village I look at it and thank my dad and remember all the wonderful times we had together. Do you have a special memory that is triggered by something you have bought or recieved from that person? Both my parents loved Christmas.....so this little village is in memory of him!
8 responses

• United States
6 Dec 08
Yes that would be the candy dish I bought my Mom as a child. That she gave back to me one christmas. I look at it everyday. Here is the funny thing I remember my Dad as well, as he laughed when I bought it for her. As it is red and blue. all different colors. Now that silly thing is worth over $60.00. But to me worth way more. YOur friend onlydia

• United States
7 Dec 08
Yes it is. I really enjoy making christmas decorations with old jewery that was greatgrandmas the stuff that on one will use or ever wear. I have had my niece help and her daughter. It can get messy with all the glue and string and what not. but it is fun and then we all have something from grandma. Your friend onlydia

• United States
13 Dec 08


Yes, I have a pic on my desk that my dad gave me of him and me at Christmas in front of our tree and I was baby and it was 1955, my first Christmas. It stays on my desk where I can see it all the time. I love my dad.

• United States
4 Dec 08
How sweet you say such nice things about your dad. You had a very good idea to start buying items for your little village as a rememberance of your dad. I was very close with my dad. He was a wonderful man so just his presence was enough for me to last me a lifetime. He was a very important part of my life. Lost him about 20 years ago and I still think about him daily. He gave me morals, values and most of all a reasonably good personality.

• United States
3 Dec 08
Oh Jill, that almost brought tears to my eyes. What a wonderful way to make memories! And your dad left something behind for you that he never even realized. I'm glad you have such a memory. Or a string of memories actually. I can't think of anything that would compare to the Christmas village, but I cling to memories I have of people in my life who are soon to pass on. I know my Papaw will only be here a short while longer. I want to soak up every moment I can have with him.



• Australia
2 Dec 08
What a lovely idea, I guess every year when you are putting your Christmas village up all the memories of your dad come flooding back to you, I think this is a lovely story, Christmas is sad time for me as i have no family left I guess if i had done something like this it would be almost like I still had them with me...your Christmas village is beautiful..

• United States
9 Jan 09
I love this Christmas village memory you have shared. That was pretty smart of you to spend the money on the village every year. I bet he was thrilled that you decided to do that with the money. Every year he could look at the choices you made on how to spend his monetary gifts. Very cool. It's funny that I'm reading this mylot discussion now as I just went to our local Ace Hardware and they are having a big sale on their Christmas village pieces. And they are so lovely and each one under $10! They light up and have extra little pieces, like trees and people included. I even thought very seriously about using some of my Christmas money (husband and I draw $$$ out of bank for each of us every Christmas for a little "spending spree") to pick up a couple of them (but I didn't) for next year.