Bedroom in your house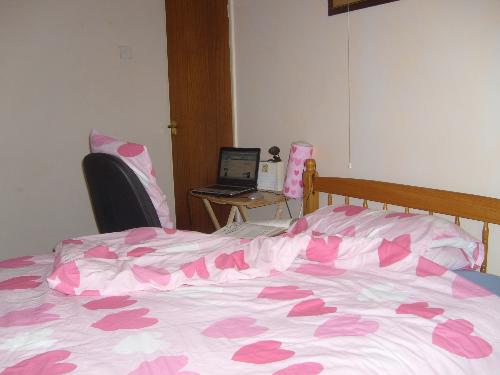 December 5, 2008 5:02am CST
What are the things that are in your bedroom right now where you are staying or living in? I will share mine first, I have a bookshelves in my bedroom because I like reading books anytime when I get a chance, but most of my time these days are into the pc so I haven't read much. I am not a good reader but I just like to read books repeatedly till I can understand what was it all about.
2 responses

• Sao Paulo, Brazil
5 Dec 08
Hello! In my bedroom, there is the computer desk, in which I am at most of the time... There is a keyboard near. A double bed, with my guitar on it. A television above another kind of desk, in which are stored some books and my videogame. There are a few more things, like mirrors, wardrobe and all, but I use mostly the computer and my musical instruments. The rest are not very used by me. Respectfully, Munhozmib.

•
5 Dec 08
Thanks for sharing! Wow, you like musical instruments! I like them too but never knew how to play them, I bought and tried to learn how to play a guitar, but the guitar didn't like me. So I give up on them, now I don't have any musical instrument but I do have a videoke machine when sometimes I like to sing having a microphone when I feel like it.

• Sao Paulo, Brazil
9 Dec 08
Learning how to play one is great and fun. It helps you relaxing too. However, it is not easy. I'm still trying.

•
5 Dec 08
I have the radio alarm clock and phone ,dressing table unit with all my make-up,perfume ect.Three wardrobes ,chest of drawer,wall cupboard,carpet on floor and lovely lilac curtains,I do have few books ,ornaments along the window sill,I know they collect dust but they are mainly presents from friends so I want to see them it is quite interesting room really ,It is a place ,where I can have my glass out and my bowl as they would not last long downstairs as with the grandchildren and shortage of space I can have them out and appreciate them more.

•
5 Dec 08
That's a nice room, wow! It must be spacious enough to put those things inside your bedroom. Yes things that collects dust needs cleaning everyday otherwise it don't look beautiful as it should be! I don't have a lot in my bedroom really it's just the common things that I needed everyday in life. Cheers for sharing!