Do you have a color theme?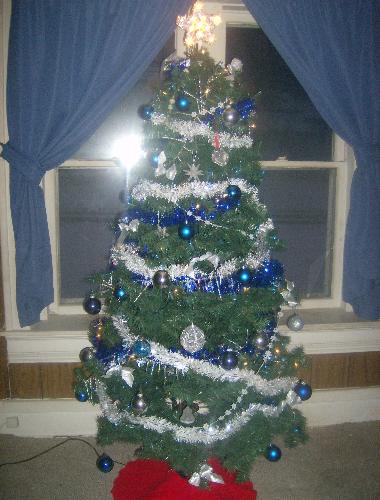 United States
December 7, 2008 8:57pm CST
Do you use particular colors on your tree? Our tree is silver and blue. That's always been our theme. It's gotten difficult to find ornaments for it now. We went out today because we didn't think we'd have enough ornaments, and we couldn't find any blue ones. We ended up buying a few silver. Luckily our tree is not that big, so the ornaments we had were enough for it. What colors are on your tree?Here's a pic of mine all decorated.
7 responses

•
19 Dec 08
I've managed to avoid getting a tree so far, but I think my eldest may put the pressure on over the next day or so! We have no decorations or anything as we haven't been at home for the last few Christmases, since we moves. I'd have to buy the whole lot from scratch. If we did end up getting a tree I'd insist on just one or two colours. Red and gold is nice, and silver or white and blue, as you've done, is also nice. I hate loads of muddled stuff unless it has a family history, and you really have to have loads of space if you go for no theme.

• United States
19 Dec 08
The only problem I've found with choosing a theme is that you can't just change colors on a whim, and later it may be hard to find similar colors. Like the blue I'm currently using is a nice royal type blue. Well Walmart doesn't sell this color ornaments anymore. They have a light, almost aqua type blue now. So if my ornaments break, I can't replace them. Also when the kids bring home handmade ornaments from school, I don't put them on the tree because they don't go with he theme. When I was little we had no theme, it was just jumbles of colors. We had multi color lights, any color garland, and many different kinds of ornaments. So when I made ones at school they went right on the tree, and my mother even held them from year to year and kept using them. (mostly because she couldn't afford to buy new ornaments) It wasn't really pretty, but it was cool, and I had my special ornaments I got to hang myself.


• United States
8 Dec 08
We do ours as a whole family. There's certain ornaments hubby and I have to hang together because they're sentimental, there's certain ones I hang myself because they're special. The rest the kids do with our help and guidance, but my kids are still little.

• United States
8 Dec 08
Our tree doesn't have a theme. We have barbie and dora and pittsburgh steelers ofcourse lol. And there is some toy story and some lion king. My mom bought us ornaments almost every year so when I moved out she gave me all of mine. So I have all of mine and some that my husband had and then our kids get one almost every year too. We just put them all on together.

• United States
8 Dec 08
We used to buy my son his own ornaments the first couple years hubby and I were together. But then I'd get all picky about where on the tree I want it. I didn't want it to mess up the theme, so I'd make them put it in the back or something, lol. That's when we stopped buying him his own.

• United States
8 Dec 08
We have different themes every year or no theme at all, it just depends on our mood. This year it's gold, silver, red and blue. We each also have our own special ornaments that we added. We still need to get the baby her own special ornament for this year (her first)

• United States
8 Dec 08
We have a four foot pre lit tree with white lights. I have not put it up yet this year. For the last few years we have had blue ornaments with silver glitter snowflakes on them and a blue glittery star at the top. I also bought some blue beads to go around it.

• United States
8 Dec 08
I have more red than anything on my tree, with all white lights. And our topper is a huge bow with streamers down the tree on all sides - the ribbon is the bending kind,white with poinsettias on it, very pretty.

• United States
8 Dec 08
We don't have a theme - we just put up all sorts of ornaments we have collected over the years.