Walk your dogs often

Malaysia
December 8, 2008 9:05am CST
I am a dog lover. I keep two dogs, a terrier and a German shepherd. The terrier is my baby in the house while the German shepherd is kept outdoor. Each evening I take my time off from surfing to walk the dogs and at the same time it allows me to keep fit. Walking your dog is one of the best ways to prevent behaviour problems. A walk allows you to practice obedience skills with your dog to increase the reliability of training. Even if your pet is active in your yard, it is more active during a walk. The pleasure of your company is one of your dog's greatest motivation to exercise. In addition to the basic needs of food and shelter, a dog needs social interaction, positive attention from its owner, exercise and mental stimulation. Many of these needs can be met by simply taking your dog for a walk. Walking your dog daily provides it with attention from you. Perhaps more than anything, our pets simply want our company. Even when you remain home during the day, much of your time is spend doing chores rather than interacting with the family pet. Much of the dog's life could depend on its obedience to your warnings. Do you make an effort to walk your dogs often?
7 responses

•
8 Dec 08
I feel I have to disagree on some of your points. Yes a dog needs social interaction but not by taking it out for a walk daily! It's a pack animal and needs company most of the time. It's far better for a dog including a German Shepherd (which I also have) to be with you in the house all the time than being left outside. Even if you are busy doing chores the dog will be much happier and walks should be at least twice daily including one where the dog is off lead and able to run. Shepherds need to be able to use the intelligence they are born with and aside from walks benefit from being given other activities. I may be doing chores but my dog is never far from my side and is talked to and interacted with and I think she's more responsive to my commands because of it. I really don't understand why people have a dog and then keep it outside. Your Terrier needs as much if not more exercise than your Shepherd yet I'm guessing because it's only a small dog you treat it very differently, why?

• United States
8 Dec 08
A agree with you as well as far as being allowed free roam and talked to etc. My beagle Buster is a very social loving animal and if left alone with noone talking to him he gets very restless and runs around the house attracting attention. So I play with Buster daily be in indoors or outdoors interacting with him and both of us learning new things about each other. Buster is an indoor dog but does stay outside for hours on end at times. If it's cold and snowy he goes into his doghouse laying on his blanket and hay. He loves freedom ever so often like this. HAPPY POSTINGS FROM GRANDPA BOB !!~

•
9 Dec 08
I'm not against dogs being outside, that's natural for them, Willow loves being in the back garden (sorry yard lol). As I have a 6ft sturdy fence and one 8ft wall around it I don't have to worry about her being tied and in summer she can come in and out as she pleases. Trouble is she was kept in a shed with 7 other GSD's for the first 3 years of her life so now being alone has become very territorial and GSD's are noisy! As I live on a school route I try to keep her in at certain times.



• Philippines
10 Dec 08
I want to do that but sadly I cant. Because I myself can't walk alone due to CP (cerebral palsy) But I always hug and cuddle her at any time possible..


• Philippines
12 Dec 08
Yeah... And I can feel that she loves it...


• Malaysia
10 Dec 08
I do agree with you. Dogs are like human beings, they need to have social lives too. My husband and I try to bring our dog for a walk everyday after our dinner, unless we are really tired or it is raining. My dog is really excited to go out, she already made friends with some of the dogs in the neighborhood. It's also much healthier if the dogs always go out for a walk to exercise, especially for large sized dogs.

• United States
9 Dec 08
You are right. Dogs are very social animals. In the wild they live in packs and when they are domesticated they require the attention from and interaction with their owners. When I lived on a farm we had dogs that we played and worked with but when I became an adult I gravitated more to cats for my animal companions. Cats are more independent and don't require as much of our attention. So if I got busy my cat didn't feel left out. She would just come sit on whatever I was doing.


• United States
8 Dec 08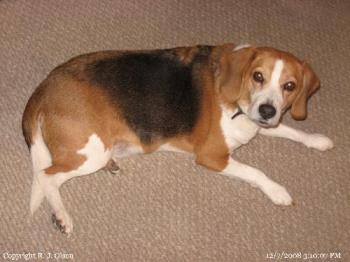 When I got Buster, our beagle, from my daughter he would not walk on a leash very well. After a lot of training etc he is great with me but not my wife. She does not have a stern sounding voice so he doesn't listen to her. But I walk Buster as often as I can depending on the weather. I have a large fenced back yard so he gets a lot of exercise running around out back if I don't get him out for a stroll. The walk also helps me release pent up stress etc as well. This is Buster looking fat as can be from dads over feeding him table scraps. Almost full meals actually. HAPPY POSTINGS FROM GRANDPA BOB!!~