do you put your plants inside your house?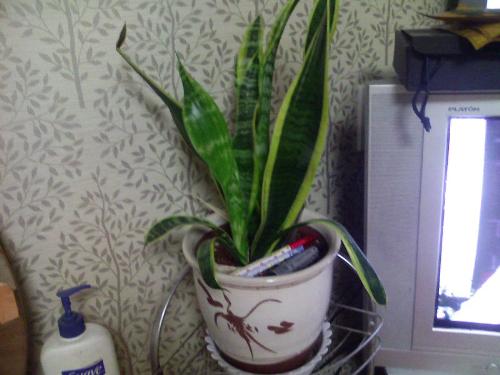 South Korea
8 responses

• India
13 Jan 09
I used to put lots of plants in and around my house but since last year I have not been able to do so when I shifted to this new place as I had to leave all my pots behind and life has been too busy with my toddler but whatever I lack is supplemented by the place I live in as I live in a remote area and its hilly and green so I just enjoy nature in its wild beauty for now.


• China
27 Dec 08
Hello marketing friend. In my parents-in-law's house, they have some pots of green plants placed in the living room all the year round. I love to see them there as I love to see green in the house as well as I love to see them in the open air. Green makes us feel relaxed. Good day, friend.

• Malaysia
20 Dec 08
Hi marketing, I have a few pots of these indoor plants. I place a couple of pots near the window of the sitting room. There is another pot on the left side of the porch. After sometimes I would replace them with the outside ones which I usually put them under the eaves or the shade of the tree to let them to get the aqueous vapor during nighttime which could enable them to grow more vigorously. The indoor green plants make the sitting room lively and decent. Initially I bought a single pot only from the florist with $4 USD few years back. I never expect that it grew so flourish and robust with new young plants beside it. So I took out the baby plants and plant them in their respective pots. They grow pretty fast and I have so many pots and I have given some to my siblings and friends as well. My husband teases me by suggesting me to sell the plant sitting beside the wet market.

• South Korea
13 Jan 09
thats good for you to grow nice plant..cheers

• United States
11 Dec 08
[i]Hi marketing, I love also to have some plants inside the house, this time since we are planning to have major renovations next year, I didn't put any plants and a lot of furniture inside our house![/i]




• South Korea
13 Jan 09
its nice to have a plant inside as decoration..cheers

• Philippines
11 Dec 08
hmmmm...you know marketing i have not really noticed it. lol i live with my in-laws and i have been here more than a year now since we got married, but i haven't noticed. but now that you asked, i had a look around and saw that no, we don't have indoor plants. we live in the 3rd floor of a commercial building--our store is on the ground floor, our warehouse on the 2nd floor and our home on the 3rd. so what we have is an outdoor garden here on the third floor. when we look out the window, we see the plants and we here the water rustling in the pond. ocasionally the koi would make a loud splash. we have two of these gardens on the 3rd floor. but i think live plants inside are very good. but instead, we have plastic ones. hehe take care and God bless you! have a merry christmas! :-)


•
9 Dec 08
Hi marketing, I don't have as many plants indoors as I had at my last home but I do still have many in my lounge, one big yukka tree, two large bamboos and four other plants that I don't know the name off. Huggles. Ellie :D