I got 3 payments from PTC sites within 6 days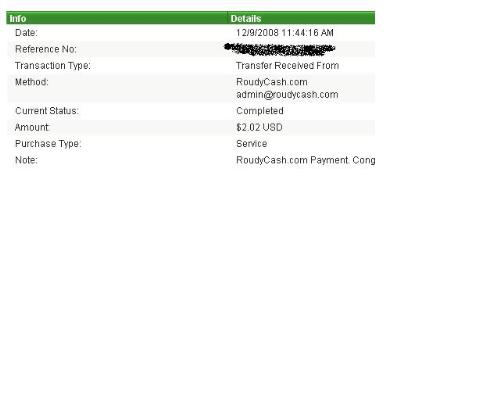 Slovak Republic
December 9, 2008 11:17am CST
Hello, this was lucky week for me. I just received third payment during this week from another PTC sites. I got this payment even sooner as stated in TOS just within 2 days and I am just standard member. The rest two payments I got during this week were instant. So fast money on my AP account. I am really happy for this. I admit it was no big money bot it is at least something. And also I can prove this way no all PTC sites will scam you. All three trusted and paying sites are in my profile at the top, so if interested take a look. So what about your lately online earning? Have you been lucky or no?
10 responses

• India
10 Dec 08
i am trying many sites but all sites are fake so pl tell me about this site. this is great site please tell me about this site on sirsantoshji
@rediffmail
.com

• United States
10 Dec 08
Congratulations. I am happy to hear this. It is good that the sites are honest and they do pay. I have gotten paid from 2 sites and have reached payout on the third I just haven't cashed out yet. It does feel good to get paid and not scammed. Good luck on your next payouts.

• Singapore
10 Dec 08
November is a good month for me too cos I actually got paid $20 eversince I started trying to make money online. (It is the first banner on my profile if you are interested

) Just started on roudybux yesterday, looks like a while till I get to payout. Did you buy any referrals from them?

• Pakistan
9 Dec 08
All the three of the banners in your profile are of instant payment sites. How can you be paid two days after you requested, i mean that you should have been paid instantly upon request?.


• United States
9 Dec 08
congrats. december does seem to be a god month so far for all of us. which sites did you get paid by?

• China
10 Dec 08
hello dieorfly you are lucky...i have not have any lucky yet on pct sites.as i m a standard member of those sites..i will see what happen,though i wishi wont waste my time on it.... cheers

• United States
9 Dec 08
HI! Congrats! I have not been that luck in terms of online earning. I just come online to have some good time with my friends. Anyways all the best to you for your future ventures... N I hope to earn some bucks on the internet in the coming time....